Success Stories
One obstacle probably ends more diets than any other, and we're not talking about cheesecake. Discouragement. Dieters struggle on difficult weeks when harmful habits are so easy to fall back into, or they lose sight of goals when they don't experience significant weight loss in a particular week. We've all been frustrated before. Just remember that it's not always easy, but it's always worth the end result. That's why it cheers us up so much to see people who have regained control of their lives, dropped the weight, and changed their shape! If you're struggling, refresh your resolution with a look at some very successful dieters below. By following their diet programs, they've made a lasting and positive change in their lives. Their inspiring stories could be just the encouragement you need to make a similar change for yourself. Then take a look at some of these diet programs and you could start making that change today!
Jillian Michaels Success Stories
Jillian Michaels has received a generous amount of promotion from her association with The Biggest Loser, helping over-weight individuals get their health back. Her program's website is one of the few featuring a 125+ pounds lost category. According to the site, the record for most weight shed was an astounding 258 lbs. where by using pool exercises to reduce impact initially, this determined woman managed to shed two-thirds of her body weight by following the meal plan and exercise regimens to a tee. (Read Review)
Name: Jason
Age: 39
Weight Lost: 120 lbs.1
From the very beginning, I was hooked. I found daily motivation from the newsletters and reading the success stories on the site. I loved trying all of the new recipes on JillianMichaels.com, and logged my food every day, focusing on calories in and calories out.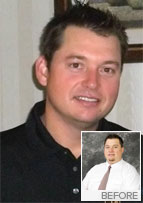 Name: Jessica
Age: 20s
Weight Lost: 120 lbs.1
...the sincere sense of community I felt on the Message Boards, made me feel like I belonged and gave me the strength I needed to begin believing in myself again. I also loved Jillian's in-your-face, aggressive approach to weight loss, and how she doesn't take no for an answer or give in to excuses.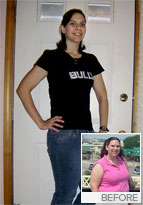 1Results will vary among program participants. Typical weight loss is 1 to 2 lbs. per week as reported by jillianmichaels.com, a subsidiary of Everyday Health, Inc.