If you want to look great, but don't know how, Jillian Michaels' complete fitness regimen could provide you with the answers you've been looking for. With a serious exercise component, Jillian will not just help you shed weight, but also improve your health by getting you off the couch. The whole program comes with tough but friendly encouragement from Jillian.
See how Jillian Michaels can help you lose weight!
Demonstrated Success / Celebrity Endorsement
Jillian Michaels has received a generous amount of promotion from her association with The Biggest Loser, helping over-weight individuals get their health back. Her program's website is one of the few we've found that features a 125+ pounds lost category. According to the site, the record for most weight shed was an astounding 258 lbs. By using pool exercises to reduce impact initially, this determined woman managed to shed two-thirds of her body weight by following the meal plan and exercise regimens to a tee.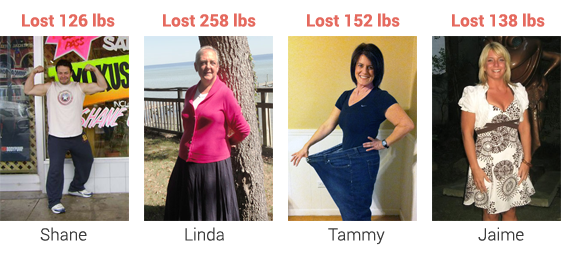 What We Like
Intense exercise to tone your body
Improve your health and stamina
Encouragement and instruction from Jillian Michaels
Complete meal guides
Access to shopping guides and forums
Customizable Meals
The program provides a recipe plan for your specific goals and metabolic rate. Since the meals rely on calorie cutting, the program discourages swapping out their recommendations.

Diet Type and Nutritional Balance
The Jillian Michaels program is a full-fledged fitness regimen, complete with exercise protocol and meal guides. If you're motivated to lose weight and get in shape, this may be the program for you.
The workouts are broken up into circuits of a few simple exercises, with multiple circuits per day. You'll also receive the encouragement of Jillian Michaels herself who repeatedly promises to kick your butt and whip you into shape on her website through her video tutorials and training guides—it's like having a personal trainer to motivate you during your workout.
By answering a few personal questions pertaining to height, age and weight, Jillian's program custom tailors an approach to your general body type and target weight. This also includes meal guides and recipes suited to your metabolic response (how quickly your body burns the calories it takes in) that could help you get toned and fit.
Hunger Factor
Based on the portion sizes, the food should be adequate for almost anyone's appetite. Many of the recipes are designed for more than one serving, meaning that you can make more food than may be shown in the pictures on the website for leftovers. You'll want to avoid having more servings than are allotted in your daily meal plan or you may not get the results you want from the program.
Indulgence Allowances
Guided by their online recipes, the program allows for desserts on a regular basis, including treats like brownies, apple crisps and almond-chocolate blondies. The website also provides an eating out guide that could help you make informed decisions while dining out.
Meal Variety
Jillian's program offers 860 different recipes, many of which can be prepared in 10-30 minutes. Some of them require a few hours of prep time, though these are mainly recipes that incorporate marinades. Likewise, baked items will take a bit longer to make. It's also important to remember that you'll only be eating meals designed for your metabolic profile, so it's unlikely that you'll try all 860 recipes. Still, there should be plenty of good tasting, low-calorie options to help prevent your taste buds from getting bored.
Realistic Expectations
The Jillian Michaels program avoids hard-sell promises, so prospective users might want to consider that their individual results are likely to be a reflection of the effort they're willing to put into it. Additionally, varying factors like a person's starting weight, age and current fitness level make it very difficult to provide precise estimates of weight loss.
Jillian Michaels saves over 1,000% versus a traditional trainer!
See How!
External Support
The online support community developed around the program might appeal to those either shy or extroverted. Here, you can meet other members, post questions or respond to other people's inquiries. With dedicated moderators, the forum strives to remain accurate and informative for members. The encouragement continues with challenges through the website, which can take the form of achievement badges, meet-and-greet events or even cruises with Jillian Michaels herself, all designed to help you have fun and celebrate accomplishments when potentially meeting or exceeding your goals. The site also has weight and calorie tracking features, which could help you visualize how much weight loss occurs. Some of the more tech savvy users may enjoy being able to utilize the program on their iPhone/iPad and Android phones, so they can take their exercises and recipes wherever they go!
Cost
The program charges on a three-month basis for a flat rate of $52. Every 13 weeks your program will renew at this rate unless you cancel ahead of time. On this payment plan, each week costs a mere $4, which is almost negligible when you consider that an average physical trainer charges $60-70 per session. Their online store also offers a few additional products—Jillian's supplements, books, DVDs and even video games—which could get your weight loss started.
Cancellation Information
As with most programs, Jillian Michaels will renew your subscription to its services until you specifically cancel your account. Since the Jillian Michaels website is operated by Everyday Health, Inc., cancellations would need to be made through their customer service department.
Our Conclusion on Jillian Michaels
If you're looking to learn how to eat healthy and get fit as you lose weight, then the tough love encouragement of Jillian Michaels just might be the body revolution you've been seeking.