People who hate dieting love Nutrisystem, because there are no recipes or formulas to remember for weight loss. Their prepackaged, portion controlled and portable meals microwave in minutes, making anytime the right time for a healthy decision. With low calorie, delicious, and filling snacks, meals, and shakes, Nutrisystem is a great diet decision for people on the go.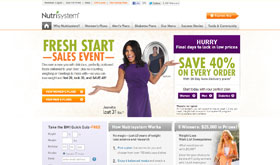 See how Nutrisystem can help you lose weight!
Demonstrated Success / Celebrity Endorsement
Nutrisystem's website contains an abundant "Success Stories" section, where users detail how Nutrisystem worked for them and demonstrate how the program might work for you. A number of celebrities have endorsed Nutrisystem including Marie Osmond, Terry Bradshaw, Jillian Reynolds and Dan Marino—all having lost 20 lbs. or more with the help of the program.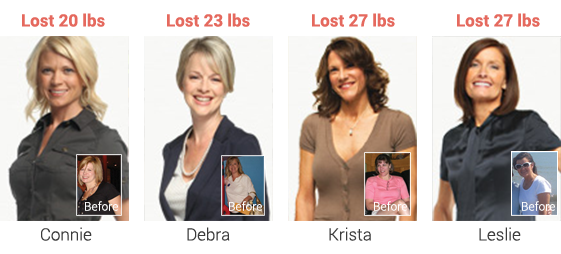 What We Like
Prepackaged, portion controlled nutrition
Microwave cookable and portable
Delivered to your door
Exercise guides
Access to online forums
Meal Variety
For the average person on Nutrisystem (e.g. not vegetarian or diabetic), Nutrisystem offers 121 meal options ranging from hickory smoked burgers to chicken tortilla soup, with most meals fitting into the diabetic meal plan. For the vegetarian meal plan, Nutrisystem offers nearly 100 choices, with most options meeting the requirements of the diabetic plan. The menu also includes four different protein shakes, which are suitable for each type of meal plan.

Diet Type and Nutritional Balance
The guiding principles of Nutrisystem are portion control, proper nutrition and daily exercise. By relying on foods with a low glycemic index (foods that release their sugars slowly and steadily, instead of rapidly and intensely), Nutrisystem meals aim to provide a consistent amount of energy throughout the day. The prepackaged, portion-controlled meals eliminate guesswork, while their nutritional guides encourage you to incorporate fresh produce into your meals. Nutrisystem's meals are rich in high-quality proteins to keep you feeling fuller for longer and incorporate healthy fats (like nuts) to help you get all the nutrients you need. Their website allows you to track your progress and set realistic goals for yourself and also gives you a large list of ten-minute exercises to do three times a day to help you stay active and lose weight even faster.
Taste Test
Nutrisystem takes top honors in many taste tests, which evaluate the meals across a range of factors. The program keeps sodium intake low and saturated/trans fats minimal, so the meals may initially taste different from some of the more unhealthful choices you're probably used to eating, but that in no way means Nutrisystem meals aren't highly satiating and delicious.
Hunger Factor
Nutrisystem relies on proper nutrition and foods high in protein to satisfy hunger and keep you full. Nutrisystem also suggests that plenty of healthy green vegetables are incorporated to keep your hunger in check, which can be eaten in addition to your meals.
Indulgence Allowances
Each package comes with a daily desert, providing you with portion-controlled chocolate chip cookies or chocolate caramel bars to reward your sweet tooth.
Customizable Meal Plans
Before you begin customizing your orders to suit your tastes, Nutrisystem recommends that you start with their Favorites Pack allowing you an opportunity to sample everything they offer. Nutrisystem provides different meal programs based on gender, as caloric needs naturally differ between men and women. They also offer a Silver plan for seniors, as well as specialized plans for diabetics and vegetarians.
Realistic Expectations
Nutrisystem doesn't make a lot of pie in the sky promises since it's a more conservative and steady program for weight loss, but the program says you can expect to lose between 1-2 lbs. per week. Of course, Nutrisystem is designed to teach you how to implement a healthy daily regimen, which incorporates both portion control and exercise, to help you keep the weight off even after you stop using Nutrisystem.
Save 40% on every order with Nutrisystem's Fresh Start Sales Event!
Click Here!
External Support
Nutrisystem offers a number of helpful resources to all of their customers, starting with their meal planner and grocery guide, to help you get organized. To see exactly how far you've come, Nutrisystem also allows you to track your progress and goals, and post on discussion boards to receive and share helpful tips from other members. Then, to help you keep off your weight after Nutrisystem, the website offers a number of transition and maintenance plans, as well as providing recipes and dining out guides. You can also use the program on-the-go thanks to Nutrisystem's mobile app and trained telephone counselors (included with certain packages), who can help you make the right decisions for your weight loss goals.
Cost
Pricing differs between packages for men and women due to different caloric needs. As such, the Basic package is $8.21 per day for women and $9.29 per day for men—just about $3 per meal. To receive live customer support, you'll want to get the Core package, which only costs an extra 80 cents per day. The Select package, which offers Fresh Frozen chef-inspired cuisine, is $11.79 per day for men and $10.71 per day for women. Additionally, opting for the Diabetic and Vegetarian packages won't cost you anymore than the respective plan of your choosing.
Deliverability
Your package should arrive at your door between 4-10 business days from the date of your order, and Nutrisystem conveniently emails you a tracking number so you can know exactly when to expect it.
Satisfaction Guarantee and Cancellation Information
Nutrisystem offers their Risk Free Guarantee to first time customers purchasing any 28-Day Plan (Basic, Core or Select), so that if you are not completely satisfied with the program after 14 days, you can be refunded for the cost of the remaining food. Nutrisystem will also cover the cost of the return shipping.
Our Conclusion
Nutrisystem is a solid choice if you want to shed excess weight without feeling like you're dieting. The program doesn't cost any more than you'd spend eating out twice a day, making it a small investment that provides big results—just some food for thought.