Aptly named because of its ability to help people live healthier and happier lives, SparkPeople is an intuitive calorie counting program, replete with encouragement and guidance for the nutritional newcomer. SparkPeople provides meal, exercise and weight tracking tools to help you record your activities and monitor your progress. With helpful articles and a thriving online forum and blog community, users are supported and informed through every step of their weight loss. Best of all, SparkPeople is absolutely free for everyone, reducing the risk and reinforcing the rewards.
See how SparkPeople can help you lose weight!
Demonstrated Success
With such a large online support community, SparkPeople features an impressive list of all different types of success stories. In addition to traditional weigh loss narratives, some people discuss topics like improved health or increased confidence.

What We Like
Absolutely Free!
Easy-to-implement calorie counting
Helpful fitness tips and meal guides
Supportive and active online community
Access your program on the go with SparkPeople mobile apps
Customizable Options
SparkPeople provides extremely customizable program options with specific input selections which help you create weight loss solutions tailored to your particular needs and tastes. After entering your starting weight, target weight and preferred rate of weight loss, you'll receive a manageable calorie range to let you know roughly how much you should be eating every day to help achieve your goals. The next page then lets you select any health considerations you might have from an extensive check list, which includes options including diabetes, depression, seasonal allergies and so on.
The meal plans offered by SparkPeople are also highly customizable. Specific dietary limitations are easily met with specific low sodium and low cholesterol options. Vegetarians can also receive meal solutions designed to fit their lifestyle while losing weight. Even picky eaters will enjoy a wide range of personal preference options, including the ability to exclude any of the following items: pork, tofu, red meat, chicken/turkey, fish and/or eggs.
Preferred meals and ingredients can be added to a favorites list in your meal tracker for easy recall. Members can also select the options provided in their meal guides, which will give calorie estimates for each ingredient. If you don't like the options for a particular meal, you can simply press the change button to receive an alternate meal. You'll also be allowed to add additional nutrients to your tracker, which could be helpful for people who have deficiencies or sensitivities to certain nutrients, vitamins or minerals.
Similar to your meal tracker, you can include your favorite work out routines in your exercise tracker to quickly calculate and count calories you've burned. Members who have a harder time sticking to a routine will still be able to input exercises, reps, distances and times manually, so there's no need to always do the same thing. Additionally, you can try the convenient Spark Coach option, which is essentially a daily personal trainer course that could help you maximize your fitness gains.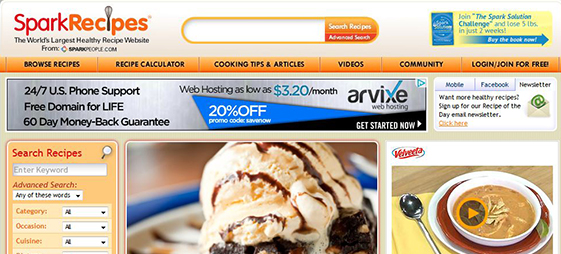 Program Type and Nutritional Balance
After choosing a username and password when signing up, you'll input your health information and weight loss goals. On your way to seeing a suggested daily calorie intake to implement for your weight loss, you'll enter your current weight, your ideal weight and how much weight you'd like to lose per week. To help you reach your goals, SparkPeople provides you with three main tracking tools: Track My Food, Track My Work Out and Track My Weight.
Using the Track My Food section of SparkPeople's site, members can apply simplified calorie counting by selecting the foods they eat. You can search an ingredient (e.g. mangos, pinto beans, kale) until you find the food you're looking for. Depending on the type of food (cups for measured goods or units for things like chicken breasts), you'll select how much you ate of each ingredient. After selecting the number of units in the meal, SparkPeople calculates the nutritional value of your total meal and shows you how many calories you have left in that day.
Track My Workout is an integrated program similar to Track My Food in that it makes logging your physical exercise as easy as performing a basic internet search. Just start by typing the name of an exercise ("Crunches" for instance) and click on the most relevant option that comes up. For weight lifting and body resistance exercises, you can add the number of sets and reps as well as the amount of weight used and the total time duration. For cardio exercises like walking or jogging, you'll record your speed and time to receive an estimate of how many calories you've burned. Exercises that you do frequently can be added to your list of favorites for easy recall later. Calories burned and minutes exercised are logged whenever you exercise, allowing you to compare them against you weekly goals in each category.
The final basic component of SparkPeople's program is its Track My Weight feature, which as its name implies shows your weight loss over time. Starting with the baseline weight you record at the beginning of the signup process, you'll record a monthly weigh in to help you visualize and quantify your weight loss. You can also take measurements of your waist, hips, thighs and upper arms to see where you're losing weight on your body. For less specific measurements, SparkPeople also allows you to report general wellness categories like energy level and stress level. This section also features a wide array of fitness tests and customizable health measurements, which let you monitor and observe more factors of your personal weight loss.
Hunger Factor
The amount of hunger that you experience on SparkPeople is by and large up to what foods you choose to eat. The program recommends certain foods, but users can track the nutritional and caloric values of any food they eat, meaning that occasional indulgences like candy bars and ice cream cones are fine so long as they aren't excessive.
Indulgence Allowances
Members are allowed pretty much any indulgence they want within reason. If you exercise on a regular basis, even having one sweet per day wouldn't seem to be a serious hit to your daily calorie total, depending on how quickly you want to lose weight. In other words, even following the program, you're allowed some indulgences to satisfy your cravings. You'll have a harder time if you try replacing entire meals with unhealthy options like chili cheese fries, for instance, that use up a large portion of your daily allotment of fat and calories while giving you relatively few nutrients in return.
Realistic Expectations
When signing up, you can choose one of three relatively realistic weight loss goals: Lose 1 pound per week, lose 2 pounds per week or maintain my weight. If you use SparkPeople's calorie counting program to develop healthy eating and exercise habits, you could very likely expect to achieve such realistic goals.
External Support
Most Internet savvy people should feel right at home with the engaging online community housed at SparkPeople. The most informative and helpful external option will be the "Articles & Videos" section, which can teach you a thing or two about the foods you eat or show you how to correctly perform crunches and pushups. You could also greatly benefit from the support and experience you find in the "Community" section, though, which provides inspiring stories of how real people use the program to their benefit. Mobile apps and the Spark Coach customized training programs are additional attractive features you could use to supplement the core SparkPeople program.
Cost
As previously stated, the best thing about SparkPeople is that it's free! You'll receive valuable services which could contribute to weight loss success without having to spend a dime.
Cancellation Information
Cancellation is relatively easy, with no fees or penalties assessed to customers. Since you'll lose any data you've tracked with SparkPeople, it is recommended that you explore other options, such as turning off email notifications, leaving a specific SparkTeam you're on or just restarting your program with a clean slate. Otherwise, you'll have to sign in as an entirely new user to access SparkPeople, and won't be able to access your old preferential settings.
Summary
By offering free services to help people get fit and stay healthy, SparkPeople's goal is to help people just like you feel encouraged without having to wager your hard earned cash. With easy-to-use exercise guides, meal trackers and community interaction, you'll find a thoroughly integrated program with tons of free tools that could help you lose weight.