By readjusting the insulin levels in your blood stream, South Beach is able to get your metabolism back on track to help you regain the body that you want. You eliminate almost all carbs for two weeks, then reintroduce them slowly so that your body can utilize them correctly. The end result is a healthier, slimmer body and a fitter, happier you in a very short period of time.
See how South Beach Diet can help you lose weight!
Demonstrated Success
South Beach's success stories section is full of average people who have used the diet with phenomenal results, with some even losing more than 100 pounds.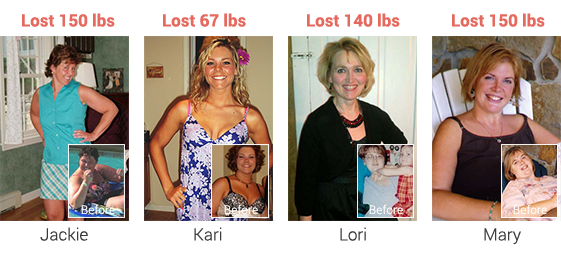 What We Like
Change the way your body metabolizes carbs
Rapid initial weight loss
Multi-phase diet, clear-cut instructions
Easy to follow eating guides
Access to online community
Customizable Meals
For online members, vegetarian and vegan meal plans are available. Since the diet is low carb, it could be inherently accommodating to diabetic and dieters with gluten sensitivity. The site also offers some Kosher and Halal recipes.

Theory
The theory behind South Beach proposes that excessive amounts of sugar in the blood (caused by high glycemic index foods) lead to a proportionate amount of insulin being released by the liver. As this excessive insulin remains in the blood any sugar that is introduced is quickly metabolized. This causes blood sugar levels to skyrocket and plummet in rapid succession. A person experiencing low blood sugar will feel hungry again before long. If they again choose a food with a high-GI they will repeat the cycle of sugar rush and sugar crash. Naturally, this over-eating can contribute to weight gain.
By taking high-GI foods and most low-GI foods out of your diet in phase one, South Beach attempts to bring your body's insulin levels back down to a normal range. This phase lasts two weeks, where you should likely lose a good amount of your unwanted weight.
In phase two, you reintroduce nutritious, low-GI foods, which include fruits, whole grains and vegetables. The program projects that you could lose 1-2 lbs. per week during this phase as you reteach your body how to metabolize carbs. This phase continues until you reach your target weight.
There are no restrictions in phase three as the diet assumes you could by then understand what causes over-eating and be able to remember the diet's core nutritional principals. As long as you stay within the basic guidelines of the program, you should be able to eat anything you want in moderation.
The diet also prohibits trans fats, which are generally viewed as a factor which can contribute to weight gain. Instead, the diet steers you toward unsaturated fats and omega-3 fatty acids, which can be found in abundance in nuts and fish.
Diet Type and Nutritional Balance
The South Beach Diet was developed by clinical cardiologist Dr. Arthur Agatston and puts a signature spin on a classic low-glycemic index diet. Developed for patients with heart health in mind, the diet tries to eliminate spikes in blood sugar levels by removing most carbohydrates from your diet (refined flours, pasta, etc.). Once the body has likely eliminated spikes in blood sugar, complex carbohydrates are slowly reintroduced into your diet, a phase you could hopefully continue with until you reach your ideal weight. By the end of the program, you're allowed to eat all foods in moderation again—even sweets! Though this third phase of the diet recommends some precautions, they hopefully shouldn't be very intrusive on your everyday life.
Hunger Factor
South Beach is also unique in that there are few restrictions on portion sizes so long as you stay away from the banned foods list for each phase of the diet.
Indulgence Allowances
For the first two weeks, the diet strongly suggests that you not eat any of the prohibited foods as they could disrupt the corrective measures the diet is trying to implement. Phase two should allow for some sweet treats like fruit popsicles. In phase three, you could go back to enjoying all foods in reasonable portions.
Get in touch with South Beach's support community to get inspired to lose weight!
Learn More!
Realistic Expectations
During phase one, South Beach says you could expect to lose between 8-13 lbs. in two weeks. As your body readjusts in phase two, it says you could expect a steadier 1-2 lbs. per week.
| Phase # | Expected lbs. lost and duration |
| --- | --- |
| Phase One | 8-13 lbs. in two weeks |
| Phase Two | 1-2 lbs. per week |
| Phase Three | Maintain your ideal weight |
External Support
South Beach's website offers a few helpful tools to help you through your weight loss. Through their online community, you can interact with other participants by sharing goals, swapping recipes and trading words of encouragement. You also have the opportunity to ask the website's dedicated group of nutritionists up to three questions per week. South Beach has an app for iPhone, iPod Touch and iPad, with which you can track the food you eat, lookup recipes and consult their what-to-eat guide no matter where you are.
Cost
Access to their web features costs $4 a week and the app (available in the iPhone app store) is only $1.99. You'll also need the programs essential guidebook, The South Beach Diet Supercharged. A new paperback copy will costs around $8 before shipping.
Cancellation Information
If you pay the subscription fee for the website, it should automatically renew each subsequent week. Because South Beach's website is operated by Everyday Health, Inc., all cancellations must be made through their customer service office.
Our Conclusion on South Beach
This program could be right for those who not only want to jump start their weight loss, but who are also motivated to learn how to live and eat healthfully for a lifetime and have the discipline to see it through.