Sensa is one of the most interesting and unique weight-loss methods that allows you to eat the foods you normally do. The program uses your sense of smell to induce an early feeling of satisfaction while eating. To accomplish this, Sensa provides you with a monthly supply of Tastants - that come in two shakers, one for home and one to take with you. These shakers are the size and shape of a deck of cards.
By combining specific tastes and smells to trick your brain into thinking you are full, Tastants are intended to help you eat less by eliminating the temptation to over eat. Every month, you'll switch to a new batch of Tastants to prevent your senses from becoming accustomed to the same tastes and smells. After you've run through the six months of Tastants, you can simply restart the program at month one.
See how Sensa can help you lose weight!
Demonstrated Success
Sensa's program is so easy to use, that many different types of people have been able to use the program for visible results. In the "Success Stories" section of their website, Sensa shares the stories of people who have lost anywhere from 10 to 125 pounds. With Sensa, you could lose as much or as little as you want.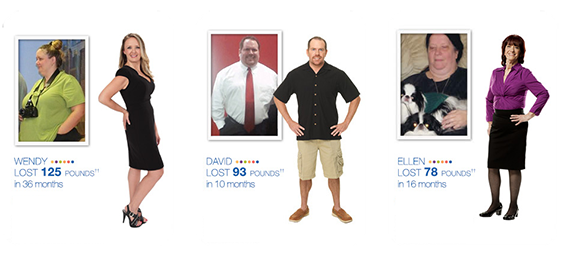 What We Like
Feel fuller while eating less
No need to "cut out" specific foods
Easy to follow
You can take it with you anywhere
Can be repeated over and over
Taste Test
Each Sensa shaker has two sides—salty and sweet—which refer to the flavors of food that you would use each side on, even though Sensa has no distinct flavor of its own. For instance, you would sprinkle potato chips with the salty side of the shaker, whereas you would sprinkle a piece of cake with the sweet side. Sensa doesn't change the flavor of your food, though some users report a slight enhancement of the flavors of their meal. Though the colors of Sensa will change from month to month, you won't likely notice a change in flavoring with each shaker.

Simple to Follow
Sensa is all about the power of smell and its ability to influence a person's appetite. Though they avoid making hard promises, the simple-to-start program can be effective as a first step on the path to healthier lifestyle. It's also one of those rare plans that can be done in conjunction with other plans (e.g. added to other weight-loss meal plans). See the Media Coverage section below for specific examples of results.
Long-term Results
In essence, Sensa helps your body develop better eating habits, slowly adjusting your appetite to be satisfied with smaller portions. If you become more attuned to your body's signals and stop eating as soon as you start to feel full, you will maximize the benefits of the Sensa plan. Although the six-month regimen is designed to be infinitely repeatable, it should help instill healthy eating habits so that you can control your portions in the future without Sensa's assistance.
Media Coverage
A handful of celebrities have endorsed Sensa, including Patti Stanger of "The Millionaire Match Maker," who lost 30 lbs. in eight months with the program. Former "Extra" television host Dayna Devon used Sensa to shed 23 lbs. in sixth months, and award-winning actress Octavia Spencer of "The Help" used Sensa to lose 20 lbs. in five months.
Ingredients: What's In It?
First off, no drugs, caffeine or diet pills. Sensa contains a patented scent and flavor combination – the first of its kind in the commercial space. It was developed through painstaking labor on the part of Dr. Alan Hirsch, an expert in taste and smell, who tested thousands of different sense and flavor combinations, to find the most effective twelve formulas that help induce the feeling of fullness. Sensa is comprised of maltrodextrin (derived from corn), silica, tricalcium phosphate and a mix of natural and artificial flavors—all of which have received Generally Recognized As Safe (GRAS) classification by the Food and Drug Administration. The proprietary blend is vegetarian friendly, though it is not suitable for vegans or those with soy allergies. Further, Sensa contains no sugar or sodium and is calorie free.
Cost (Free Trail, Satisfaction Guaranteed)
Sensa offers a free 30-day trial. All you have to pay is shipping and handling and you'll receive a two-month starter kit that includes a how-to guide and a Getting Started DVD. You'll also get access to free online tools and apps. If you decide to stick with the program, your trial will automatically roll into a subscription, similar to how other weight loss programs handle it. If it is not right for you, you can cancel within 30 days and return the product so you won't be charged. Though, you will be charged the cost of shipping and handling to return the kit.
If you are happy after the trial, a two-month subscription is offered exclusively online for $89.95 plus shipping and handling.
Guarantee
If for any reason you are not happy within the first 30 days, Sensa offers a full money back guarantee. You will only be responsible for the return shipping and handling cost.
Our Conclusion on Sensa
Thanks to its unique mechanism of action, Sensa could be the right diet program for those who are ready to lose weight but who aren't quite ready to give up the foods they love and don't want to feel deprived on a calorie restrictive diet that leaves them hungry after meals.