It's been an interesting week for me, to be sure. Last week I felt extra motivated and that did not change this week. It was solid, I feel, though I did have one pretty good cheat night which we'll get to later on.
Last week I was telling you about the gym routine and how P90X2 just hasn't been doing it for us. It's a fantastic program, to be sure, but it's just difficult to absorb. For me I just don't find it as varying or fun as the original version. There was so much variation in the original P90X and I understood it better. I know what I'm doing when I'm doing the "chest, back, and biceps" routine. "Post-Activation Potentiation", however, is a bit more difficult to get behind. Like I had said before, we've decided to exercise using the discs from both sets that we really enjoy and add more cardio. Does cardio blow? Yes, cardio blows. It's dull and talk about getting nowhere fast, am I right? Still, every time I see the ol' readout on the scale I know that I need more cardio in my life. Luckily, even as an I.T. professional, I get a decent amount of exercise at work. We are on two floors so I move back and forth between them via the stairs. My daily duties require me to move around the office constantly, lugging equipment, crawling under desks, etc. so I am getting a good amount of in-office movement. It doesn't excuse me from the gym, however, so I am there as often as possible. This last week was a bit hit and miss, though it was mostly miss. The first workout of the last week was sub-par and that's putting it nicely. We didn't even get through the first half of P.A.P. Upper before we sat there on the floor, the agony of defeat staring us in the face. I worked late Thursday and had to cover another event that night so I missed the gym that day. Friday I made it for a bit but that was also my worst day, diet-wise.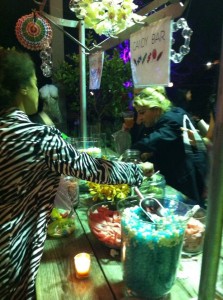 I attended a lovely charity event in Santa Monica Friday night with my friend "Caroline" (name changed, anonymity, etc.). A friend of hers was hosting the event, which was a benefit for Our House, a grief support center. Caroline needed arm candy so, naturally, she picked me. I know, I can't blame her either. So we swirl into the event looking very fancy, indeed. A couple of drinks were had and some mingling was done. They did, however, have a candy bar. A. Candy. Bar. That's what you see in the picture. I don't have much of a sweet tooth but I did sample a few of the wares. We made a to-go bag (which left with Caroline) and toddled off to another nightspot where we consumed a few beers until it was time to head to our homes.
Saturday was another day I missed the gym but I was housesitting (or squatting, depending on how you look at it) and said home had a pool. I got in some pretty decent pool time and exercised in there. Aquatic Scott is so much more limber than Dry Land Scott, for sure. I took in a movie that afternoon. I saw "Looper" which is a timely piece. I recommend it. I also ate some popcorn and one or two Sour Patch Kids might have found their way into my stomach. The rest of the day was spent at home watching movies and such. No further adventures that day.
Sunday is a work day for me, but not at the regular office. I cover the NFL for a website I write for so all day Sunday is spent gathering stories and such for the site. I ate pretty well, devouring a large egg white omelet for breakfast. I didn't drink much that day and also found my way to the hot tub for some more Aquatic Scott time. I stopped by a local pub for a drink with a friend on the way home and that was that.
The early parts of this week were much like most early parts of my weeks. It's amazing how I can be so well-behaved the few days before the weigh-in looms but the days following the weigh-in are a bit more loose. I need to figure out a way to stay in that mode all the way through. I mean, I have it figured out. I just need to stick to it and stay strong.
I stepped onto the scale this week and found another pound gone, but just the single. That brings me to 270 and 14 lost since the beginning. Not bad. Not stellar, but not bad.
This coming week is going to be a doozy for me, I have a feeling. I have a lot of things happening, including a meeting with someone you all might recognize when you see the picture next week. If I can escape the next seven days and still lose some weight I'm going to be very pleased.
Until next time, thank you for reading and stay strong. You get out what you put in.