I remember hitting the wall like it was yesterday. It was right in the middle of my quest to lose weight in 2011, and I was stuck between 295 and 290. No matter what I did, no matter what I tried, I just couldn't break that barrier. I tried adjusting my diet, working out more, working out less, altering my sleep patterns, and nothing was working.
What I discovered six weeks later was that all it really takes is a good shock to the system to get it moving again. In my case I needed to adjust everything all at once. I worked out more, I ate differently by introducing a stricter diet into my life. It was egg whites and a small helping of cottage cheese in the morning, usually chicken and leaf spinach for lunch, and then more protein (beef, chicken, or salmon) at night. I upped my cardio from thirty to forty-five minutes a day and used weights sparingly. It busted me right through that wall and I was once again sliding down the scale.
The worst part for me was the weekly blog post I was writing at the time. Every week it was the same story, over and over again. "I did everything more or less right and still can't break through." I felt bad because I had so many people out there, both known and unknown to me, that were rooting for me and every week I felt like I was letting them down. On top of that, I was going nowhere and, if you've ever tried to lose a lot of weight, you know how terrible that feels.
Lately during this 2012 challenge I have felt the same way. I feel like every week it's the same thing. That's going to be natural given the repetitive subject matter, to an extent. Every post is going to have a familiar ring simply because every week the goal is the same: get smaller, get healthier, get a nice lady to notice you. Okay, maybe the last part doesn't apply for everyone, but you get the idea.
That being said, I put my nose to the grindstone this week and, aside from one relatively bad day, I hit it hard. The gym or some sort of engaging exercise happened every day. I buckled down on the diet and tried not to enjoy quite as many cocktails (the real killer here). I worked and made a conscious decision to write something today that would be better than my other posts as of late.
I want to introduce you to "Motivational Scott":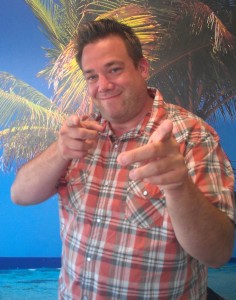 As a joke I autographed and framed this picture then gave it to a workout buddy as a birthday gift. He promptly hung it on the wall of the gym to serve as motivation. I want to be this happy and confident every day, which is yet another reason it has come time to buckle down.
As you know, I've been doing P90X2. There are three friends I do these workouts with and we have lately come to find that the system in place for P90X2 is less than inspiring. The first one was great, an even mix of weights and cardio (even if they had to throw yoga in there). This round is completely different and kind of weird, as it is all synergistic. We decided to skip ahead to the final phase of P90X2 to see what it was like and if it was better. It's not only better, it's downright brutal. The first two days are called P.A.P. Lower and P.A.P. Upper. P.A.P. stands for Post Activation Potentiation, which is basically quick, explosive movements combined with solid weight training. This is accomplished by performing two distinguished Complexes. A complex consists of four different moves that are repeating for 4 rounds, which are as follows:
Strength/Balance Move
Explosive power move
Fast Twitch move
Isometric move
This stuff is brutal. B-R-U-T-A-L. It's also awesome and EXACTLY what I needed for this week. You see, there are muscles that are asleep when we do certain moves. Therefore, by introducing a strength move before an explosive move, you then ACTIVATE the muscles which allows you to dig deeper and provide an incredible move. I am still sore from this. The week breaks down with lower, upper, yoga, active rest, lower, upper, rest. That's the week and thus far I love it.
As for the diet, I've been pretty well-behaved this week. My crock pot concoction was simple – chicken breasts, salsa, some habanero sauce, and assorted spices and such. Delicious, easy, healthy, and not heavy on anything extraordinarily bad for me. I went out with some friends Friday night but ended up driving so the drinking portion of the evening wasn't too bad. I attended a first birthday party on Saturday and then stayed in Saturday night, which kept me going pretty strong. There were some not-so-healthy treats there and I had a couple of beverages but all in all it wasn't too bad. Sunday, the NFL kickoff, was the worst day by far. Mimosas, bloody Marys, some of those new tiny KFC snacker things towards the end, but a lot of veggies and the like as well. It was NFL Sunday, so I can hardly be blamed for my actions. I don't know who else we could blame, I guess, but I'm okay with that one for such a special day.
The rest of the week was absolutely by the book. I stepped on the scale this morning and found that I was three pounds lighter. I finally replaced the battery in the scale so that total is pretty much over a two week span. Still not ideal, but not bad. The real victory here is the resolve. My will to win is back for a multitude of reasons, and I hope to have even better news for you next week.