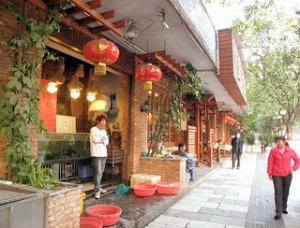 Weight loss can be challenging at times. Sure, when you're eating at home and can control exactly what goes into your body in terms of portions and composition, it's easier to hit your calorie goals. However, weight loss isn't nearly as easy when you're eating out, as there are often too many unknowns and variables. To make matters worse, most locally-owned restaurants don't post their menus or their nutritional information online. Many don't even have that kind of information to give you on request.
If you're working on weight loss goals and want to go to a Chinese restaurant, for example, you're in something of a bind. You can't be reasonably sure what ingredients are used in various menu items. However, there are some guidelines you can follow to stay within your weight loss goals when you're eating at a Chinese restaurant:
Choose the right soup. Egg drop soup isn't always terribly high in calories or fat, but it is at some Chinese restaurants. Err on the side of caution here, and go for a hot and sour soup or a wonton soup.
Drop the egg roll. Egg rolls are fried and full of saturated fats. Instead, order a steamed spring roll. Not all spring rolls are steamed, so make sure to ask about how the particular Chinese restaurant prepares their spring rolls.
Steaming is your friend. You want to avoid fried rice. Steamed rice can have as much as a third less in the way of calories than fried rice. Also, a steamed vegetable dish is also a good choice, as are dishes that have steamed, boiled or grilled poultry or shrimp.
Stay away from anything battered. You probably already know this if you're more than just a few days into weight loss, but battered foods tend to be fried foods, and they tend to be high in fat and calories. Watch out for anything battered or fried.
Watch for sweet sauces. Sweet sauces, such as those found in a General Tso's chicken dish, are likely to have honey or some other high-calorie base. Avoid them at all costs.
Ditch the duck. Duck is a particularly fatty type of poultry. Stick with chicken or seafood if possible.
Ultimately, keeping in line with weight loss when you go to a Chinese restaurant is about choosing the right foods, and then making sure you're diligent about portion control, as well.