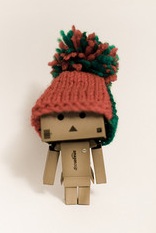 Don't be fooled by all these fluctuating temperatures as of late. The cold weather will be here before you know it. This is no excuse to skip out on your weight loss exercise routines though. While the temperatures maybe frigid outdoors, there are some simple steps you can take to keep your weight loss jog both warm and comfortable like:
Wear a darn cap – You lose a majority of your body heat out of the top of your noggin. This is where a good head warmer comes into play. This is not the time to think your favorite ball cap is going to be enough to keep you warm either. You want your head covered in something warm like wool, or even a fur lined hat. Make sure your ears are covered as well. You may want to consider something that will more easily fit in your pocket so you can take it off when you get to warm. The key to staying warm while working on your weight loss exercise outdoors start with your head.
Gloves are full of win – Ever notice how much colder you feel when your fingers are numb? A good pair of gloves will go a long way to keeping you outside and working on your weight loss. Just as the head cover needs to be more than some skimpy hat, your gloves should be more than the white gloves people wear when inspecting for dust.
Layer those clothes – The key to keeping the core of your body warm is in layering your clothes. Your weight loss achievements will thank you if you can even layer in some quality long johns as well. This maybe the perfect time to hit up a running store to get some quality under garments. It does not matter what you are doing outside, these specialty-running clothes are designed to pull water away from your skin and keep you warm in the same process.
Choose your footwear wisely – Nothing sucks more than cold toes. Your summer running shoes are most likely not the best idea for cold weather activities. Invest in some shoes that will provide you traction in adverse weather condition, while keeping your little piggies warm.
Don't forget to invest in some good socks as well. Something like Smartwool socks can go a long way to keeping those tootsies warm and dry. You can also preheat your socks before you leave. This will give your feet something warm to enjoy, as well as warming up the inside of your shoes. This means your body can focus on keeping itself warm instead of having to warm up your gear.
Cut the wind – If you happen to live in a particularly windy spot, you need to dress for that. It may be in the thirties and forties out, but a good wind can make turn that into single digit temperatures. Wear a good outer layer that will help keep the wind from cutting through your warm protective barrier. You want to be working on your weight loss exercises here, not cursing yourself that you did not wear to thin of a jacket.
Combine all these tips for a much more enjoyable outdoor weight loss activity experience. Don't let the cold turn you into a recluse. The colder weather is some of the best time to get out and get active.
Photo credit: craigmdennis