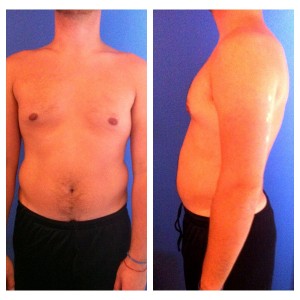 This morning was dramatic (like every other morning of my life): I had a stare off with the coffee shop's pastry counter.
SPOILER ALERT: The pastries always win.
I need you to picture this: I always march towards the door of the coffee joint with like, THE BEST intentions. I hope to get in, order my sugar-free iced coffee, and get out without shoving a magically delicious scone down my gullet. But then I open the door, sniff out that sensual coffee-mixed-with-sugary-dough treat scent and my brain shuts down. The next thing I know I'm being wooed towards the pastry case (I like to imagine by those waif-like hands that lure cartoons to pies in windows) and lose all focus. It's a showdown like a classic Western movie. I pull my gun, but BAM! Instead of shooting the craving, I'm pointing at my sugary breakfast. There goes 500 calories down the chute.
In case you're wondering: This also happens at lunch joints, dinner spots, snack choices, at home — basically every time I want to eat.
In a few weeks, I'll be hitting my "BIG 3-0," and while the previous decades offered me a lot of amazing life changes (I won't bore you with details, but it involves things like adopting cute dogs, having awesome travel and writing opportunities and recently getting engaged to my partner!!!), one thing that's also creeped in to my life was weight gain. When I say "creeped" I really mean "Oh, look — you're not a twenty-something anymore that can stuff your face with whatever looks edible and think you'll maintain an Olympic diver body." This was a very recent realization that occurred with a move from the Midwest to Los Angeles. Transitioning from a heavy pedestrian lifestyle to a "sit in traffic" routine has changed everything… and it was heart-breaking. I feel like I had to suddenly break up with my youthful metabolism. (This is a break up nobody likes going through, by the way.)
I realize I'm not obese, but there's just no reason why I shouldn't be in MUCH better shape than I am other than my own weakness/laziness and admitted obsession with food. I always have good intentions when trying to maintain a healthy diet, I really do. I eat well: salads, low-fat dishes, turkey sandwiches, no white bread, lots of fresh fruit and vegetables. But things get away from me (SEE: my morning pastry moment). The best way to describe it would that my taste buds selfishly ignore my waistline's plea to remain awesome and suddenly pizza/hamburgers/ice cream are making me drool like a puppy staring at bacon. Oh, and don't even get me started on my love of beer and wine. Lastly, I really hate going to gyms — H.A.T.E. (That's a whole different story for another time.)
So not only is my goal to shave off the weight, it's also about learning about commitment. While I may be willing to permanently seal my fate with the love of my life in less than a year with such ease, that type of devotion just doesn't stick when it comes to my fitness and weight loss goals. But this marks the beginning. Not only am I stepping in to a new decade in life but a whole new perspective on how to take care of my body. Aside from wanting to look drop-dead flawless in my wedding suit, I want start the next ten years knowing how my body works and functions. That's why my regimen will be real, none of those fad diets. I'm focused on healthy eating: low carbs, exercise, and understanding calories. I'm going to do it this time around. I promise.
If someone could pass this news on to the evil pastry counter, that would be great.