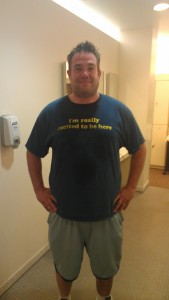 At the end of 2010 I was brought in to write for a site started by some close friends of mine. I wrote as "Big Skeezy" and we started creating posts entitled "The Big Skeezy Challenge". The challenges were all absolutely terrible. The first was to see whether or not I could eat fifty boneless wings in less than two hours. Other challenges included eating one of every item on the Arby's value menu as fast as I could and the holiday challenge was to drink a pint glass of brandy and a quart of egg nog, also for speed.
While I was visiting my family for Christmas that year I decided to turn the BSC into something positive. I was tipping the scales at 371 pounds (on a 6'2″ frame) and needed to make a change. I began blogging once a week in 2011, charting my progress. I lost 104 pounds that year, coming in at 267 at the end of 2011. This is the final post from that journey, and will give you some insight into where I was and where I ended up.
Moving into 2012, I began to take a break. A short break, at first, that just kept going. I was still going to the gym, but not as often. I wasn't working out like I once was. Why? Accountability. I didn't have to answer to my readers anymore. I could grab Taco Bell on the way home and not worry about a looming weigh-in. Everything was great. I looked better, people were proud of me, others were inspired by what I had done, and life was generally good.
The problem was that the break lasted up until about three months ago. I hadn't weighed myself in ages but I knew I was going in the wrong direction again. It was evident in the way my clothes fit and the way I felt. A couple of friends of mine and I decided to try P90X. We finished the first 90 days just over a week ago. If you haven't done P90X, I highly recommend it. It's an absolute game changer as far as fitness goes.  My body was morphing right in front of my eyes (well, technically BELOW my eyes) and I was putting on muscle. My midsection was slowly moving up to my chest and becoming the good kind of bulk.  The photo above is what I looked like after the final workout.
Today, however, I weighed myself again for the first time since the end of last year. I weigh in at 284 pounds, putting me 17 pounds above where I was at the end of last year. It's obvious that a lot of that is muscle weight, as muscle weighs more than fat does, but I still have a lot of work to do.
So here I am, putting myself back on blast. I need to be held accountable again. I need to write about this. I need to be a good example. I want to be proud of myself.
Today we started P90X2, the sequel, and it absolutely beat the hell out of me. "X2 Core" is the first workout, an hour of lunging, squatting, twisting, leaping, and all-around midsection torture. I was pouring sweat at the end of it. I felt like I did after the first workout of P90X three months ago or even the first trip I made to the gym in 2011. I felt tired, weak, and ready to prove to myself that I can conquer this thing.
And so it begins. I'll be updating weekly, keeping you posted on my workouts, my diet (high protein, low carb), my successes, and my failures.
Once more unto the breach, dear friends, once more.