In two weeks, I will be in paradise. I'll be surrounded by lush tropical island life, clear water and absolutely no commitments (aside from, you know, a few planned naps). I even put photos of our last trip on the fridge to motivate myself to stay on my healthy target! (Like the one I'm sharing here where I was pretty fit!)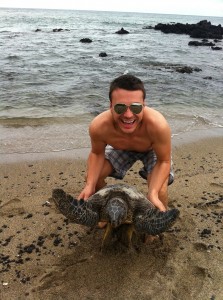 But on the flip-side: I ONLY HAVE TWO WEEKS TO PERK THIS BOD!?!
The last ten weeks have offered eye-opening learning lessons. I've learned that lettuce wrapped burgers aren't my forte, you can over hydrate and that I can avoid the pastry shelf at the local coffee shop for almost two months. But now, as I round to my first small goal of looking good for our vacation, I realize that I need a little more toning. It's crunch time for a semi-flattering beach body and that means crunches!
News flash: I hate crunches (can I get a raise of hands of who actually does like them?). I remember the first time learning how to do a sit-up in elementary school gym class. I remember saying to myself, "why would anyone do this on purpose?" And that's my mentality to this day. I'd prefer to run, lift weights, get an ice cream cold headache before I have to do crunches, but I'm realizing that adjusting my mentality (the way I have with food) is the only way I'm going to squeeze in some extra calorie burns and toning exercises.
So I started doing my research and have introduced myself to the exercise ball. Don't get me wrong, I've seen these things at the gym before. I actually purchased one a few years back in the hopes to actually overcome my anti-crunch beliefs, but this is the first time that I actually watched YouTube clips and read article on how to properly do crunches on the ball. In my research, I've learned that doing crunches improperly can hurt your back and neck and the best way to work around that is to use one of these balls.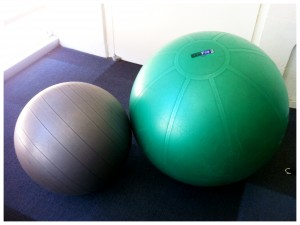 The first time I tried the work out, I sat on the ball and debated immediately giving up. The idea of doing three increments of twenty-five crunches while arched on a ball with other people in the gym watching my do this weird exercise was enough for me to give in. But after doing the first ten I realized how fun it was! Maybe it's the kid in me, but bouncy balls make exercise fun! After my first two reps, I was sold. The best part is I only fell off the ball twice and even better, no one was watching! (Side note: Does anyone else ever get uncomfortable in gyms? Perhaps even insecure that others are watching the funny way they run or jump rope or the faces they make while running on a treadmill while watching CNN? Just me?)
OK, so I'm only on day two of this regimen so it might still have that newness to my routine that gets me excited, but if this is the way to squeak in some last minute crunches before my trip, I'm having a ball getting them done!
I definitely won't have a six back by my trip, but I think the newest lesson I learned about fitness and eating right is that some things just get bad stigmas because you've been taught/cooked wrong. If you're serious about evolving from your old self, in anything in life, you have to be willing to roll with the crunches.