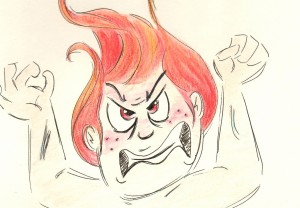 I'm annoyed with myself and when I dig myself into a hole of loathing, it's difficult to crawl out. It's also been a side effect of burn out in other areas of my life.
One of my dreams was to go through Grad School and get a Master's degree. For what I do, and want to do, it's not necessary. Plenty of people have told me that. I'm a Taurus and I'm stubborn and I want that piece of paper that says I'm legitimate. Finally looking into applying, all of the programs are full-time which means I couldn't keep my current job which I love. Perhaps, it is the Universe saying "Not now" but I'm dramatic and am babying myself with a dying dream.
So, yes, I've been preoccupied with other areas of my life and ignored my health this week. Last week, I managed to lose 2 lbs, this week I gained- which sadly didn't surprise me.
I have learned a few lessons throughout this past week that I thought I would share with you.
1. Never go grocery shopping when you are hungry
After work one day, I stopped by the local market to grab something for dinner. I was hungry! But I didn't realize how much until I stuffed frozen cheese sticks, cheese pizza, and a quart of ice cream into my basket. Even when I eat unhealthy, I do keep in mind portions, but when I realized what I was doing, I put it all back.
When I took a moment to listen to what my taste buds were actually wanting, all of these items no longer seemed appetizing. My usual of yogurt and Kashi Crisp is what I really wanted.
2. Avoid Grease
Every time I eat something greasy, it coats my mouth and my stomach. I get light headed and groggy. I don't like the taste anymore, which for nostalgic reasons saddens me but obviously makes me happy in the bigger picture.
I have also noticed I become drowsy.
3. Hydrate throughout your exercise routine
Since my work schedule changed, I can no longer take my Bellydancing class. To find it's replacement, I knew I wanted it to be a live class, a lot of movement (especially in the hips area!), as well as high energy.
I found a class, tried it out and almost collapsed. It's exactly what I wanted, but because it is early and I hadn't drank water or eaten since before falling asleep, it was too much! It wasn't the class, per say, it was me not being prepared and thinking ahead.
Even though, a few pounds snuck back on this week, it isn't a total loss as I've learned these 3 valuable things to implement into my conscious living going forward.