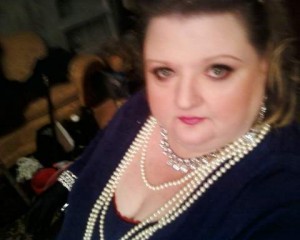 Well I am down four pounds this week which is not bad. Actually pretty good. I would even have been happy if it were just a pound because it is so difficult for the weight to come off so this is a major blessing. I will be ecstatic when I am beyond 342 pounds because that will mean I will have left Island Plateau and I know I will have totally left the Island when I get to 335 pounds because that will mean I will have lost 100 pounds. Yes, my dear friends, I was once 435 pounds.
My taking off weight journey began February 2011 when I spoke with a Chiropractic Doctor at a Wellness Center in Glendale California who after speaking with me at length about my medical history and symptoms, advised me that while I may not have Celiac Disease, I could be allergic and have a sensitivity to gluten. He advised me to follow a non-gluten lifestyle. He also advised me to stay away from artificial fats and sweeteners which I had been doing anyway as my body can not tolerate them. Having tried other dietary schemes that either backfired or were insufficient, I decided to give this a try. After a few weeks my weight started coming off. I started seeing improvement in the appearance of my skin and my hair became very shiny. I had more energy. My stomach problems began to clear up if not totally disappear and most importantly my blood sugar control improved dramatically. Following a non-gluten lifestyle was one of the smartest things I ever did and while it is major adjustment, it is not as difficult as it may seem. So much of our food is already non-gluten and there are many non-gluten products available in local supermarkets now and they are delicious. You would never know they are non-gluten.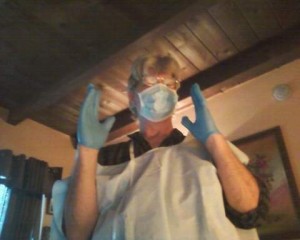 Following this lifestyle, by October 2011 I had let go 45 pounds. At this tim,e I met my new Endocrinologist/ Internist, Michael A Polisky M.D. who saved my life!!! Having a doctor of his caliber is essential for not only taking off weight but dealing with the monster, the overwhelming life consumer diabetes. Yes diabetes, my other constant companion along with Penny Pain, but it's even more serious. I'm going talk about my diabetes for a little bit if I may. Dealing with this disease is not just a matter eating correctly and trying to maintain good sugar control. You also have to watch your fat intake as every part of the endocrine system affects the monster. Your thyroid, adrenal glands, pituitary glands, pineal gland and hypothalamus are all affected. Having tests on this system will reveal many of the problems of the monster and getting rid of the weight. The new science of epigenetics has revealed that many "switches" can be turned on or off in the endocrine system. Because of this, Dr. Polisky has put me on Symlin. This is taken roughly 20 minutes before meal time along with insulin. He also "bumped" up my non-gluten life style by increasing my low-carb intake by removing potatoes, rice and corn. He did allow me white corn tortillas and a dusting of white corn masa to replace wheat flour because they are low-carb, but I can only have them occasionally. Walter makes a wonderful and very tasty mini pizza with the white tortilla. I will give you all the recipe at the end of the blog.
As a result of these changes I am now down to the weight that I mentioned at the beginning of my blog and my insulin has been reduced by half. My blood sugar is very under control now. It is in the normal ranges. Now, when I get "ship wrecked" on Island Plateau, we know to check is there something medically going on with me.
As a closing note, at the beginning of last November I was part of a documentary for BBC America called "Rude Awakening – Obesity. Here is a You Tube link to the trailer. Unfortunately, at this time BBC has not released the full documentary or put it online, which is a shame because it is very informative. I am not saying this because Walter and I are a part of it. We both are blatantly honest about how my morbid obesity has affected our lives. There is a lot of information. My wonderful doctors are in it and they give so much of themselves as well as the other participants in the documentary. Especially Bonnie Simon who like myself is morbidly obese. Bonnie is a very beautiful woman inside and out with a vibrant personality and a heart of gold. I have not met Bonnie in person. We were supposed to meet but at the last moment BBC changed their mind. Bonnie and I remain in contact via phone and Facebook. I am blessed to have her in my life.
Right before the show was aired last March, some of the publicity releases insinuated that Bonnie and I were beyond hope. We both were shocked and very hurt and angered by this. It also helped motive us more… especially me. I'm a stubborn ole' broad. No one is going to say about me… us… that we are beyond hope!!! I think that I am close to my first 100 pound hurdle plus this week I am auditioning for a TV pilot and about to do a starring role in an independent film is proof of that!!!  Now, admittedly, Bonnie did on Saturday have a moment of weakness and e mailed me that she was having a really tough time so I got on the phone right away. I am at her back. She is at mine. We are in this TOGETHER. The best thing out of the BBC experience was the precious women I met, Bonnie being one of them and another whom I will tell you about in another blog. After talking for a bit Bonnie was all right. She gave me permission to speak about her here.
Oh dear, I've been I've been going for a while so maybe I should give your eyeballs a rest before I end up writing my competition to Homer's Odyssey.
Have a beautiful and blessed week my dear friends. Enjoy the pizza!!! It's low-carb and not fattening.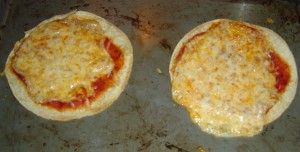 Walter's White Corn Tortilla Pizza
White Corn Tortillas
Shredded Low Fat or Skim Mozzarella or Cheese of your choice
Prego traditional spaghetti sauce as it is non gluten or home made sauce if you have time to make it
Directions
Preheat oven to 400 degrees.  Assemble on baking sheets your  tortillas. On tortillas use one tablespoon of sauce. Spread liberally. Add approx. 2 to 3 oz. shredded cheese. Bake for approx. 10 to 15 minutes until cheese melts evenly. Enjoy!!!!
P.S. Walter helped me with some of the medical parts of this weeks blog… he's a great guy!!!