This week has been a bit of a mixed bag. I have had some great days and some not-so-great days in regards to my diet. I did go on a 6-mile walk and do one day's worth of strength training, but I also ate a sizeable portion of a pizza on my own and indulged in sourdough. However, I did lose some weight. I cut my hair (this shouldn't count, I know), resulting in a ½-pound loss, and I have been on antibiotics, which helps keep me from gaining too much weight at any given time. Overall, I think I come out ahead in the diet department, in spite of some setbacks. I feel as if I won this week's battle, even if by a small margin.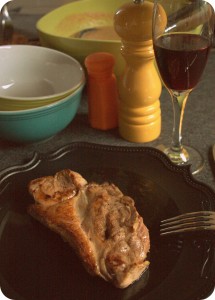 One of my major accomplishments this week involved the purchase of a cheese Danish and small package of chocolate mini-doughnuts from 7-11. While this may sound like an utter failure in itself, the triumph comes over time. I made those two small purchases last me all week, leaving me satisfied in the dessert department without over-indulging even once.
My only major setbacks involving the pizza and the sourdough were easily preventable, and thankfully, were my only significant failures. Previously, I have had quite a bit of success in not keeping bread products in my house. If I have no option in the matter, the temptation does not exist. Of course, I have my excuses for making the mistake of keeping tempting products in the house this week, but those don't matter. I must avoid food triggers at all cost, even if it means causing inconvenience for myself and others.
One of the better meals I had was lamb steaks with red wine and vegetable soup, which my friend brought over and prepared. While I am not a big vegetable person, nor a cold soup person, this recipe was fairly decent and came out to only 2 to 4 points per serving.
Place one large handful of the following into a blender: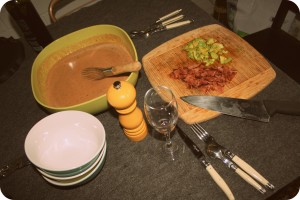 Mushrooms
Cucumber
Bell Pepper
Add a few sprigs of dill, a chopped green onion, salt, and pepper.
Fill the blender with 100% vegetable juice just to the top of the vegetables.
Blend until smooth.
Add chopped avocado and bacon and serve. (If you choose to leave out these two ingredients, I think it would be fair to call this a 0-point soup).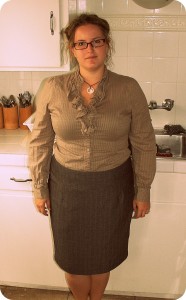 I also had  number of job interviews this week. The fact that I did as well as I did in spite of all of the stress of job hunting and dealing with health problems gives me a great sense of accomplishment. On the other hand, perhaps my dieting was assisted by being too busy to think about eating. My general lack of funds certainly doesn't help matters, since meat is so expensive. In fact, there were only a few days that I was actually able to stick to my plan, because I didn't have access to protein products. I am definitely looking forward to making a decent wage and being able to feed myself properly (rather than defaulting to cheap carbs).
In spite of my achievements this week, I am a bit disappointed, because I was hoping to lose more weight by this weekend. My brother is getting married, and I didn't want to be memorialized in his wedding photos as the fat girl. This is not to say that I am so self-centered I think that everyone will be looking at me in those photos; I just know I will. But, I suppose, when I am in shape, I will be able to look back on them and feel a sense of accomplishment, so maybe it is okay. The major challenge for week 11 will be keeping my eye on the prize in spite of the wedding festivities.