Dieting becomes exponentially more challenging when on vacation. Last weekend, I attended a camping trip in celebration of my brother's upcoming wedding. Food options were limited to burgers, hot dogs, and chips. I tried to bring ingredients to make veggie sandwiches, but that was way too much work for such a laid-back event.
On the first night, I ate two hamburgers and chips (combined 20 points), because "they needed to get eaten." On the second day, we went into town to escape the desert heat and ended up getting bowling alley food, so I ate chicken poppers (~10 points), and I had a turkey burger for dinner (6 points); this was me trying to be good. The final morning consisted of a breakfast burrito from Del Taco and hash browns (combined 19 points). Of course this is not to mention beer (4 points apiece), trail mix (4 points), Gatorade (? points), and whatever else happened to end up in my hands. Needless to say, I went over my maximum points by Sunday… again.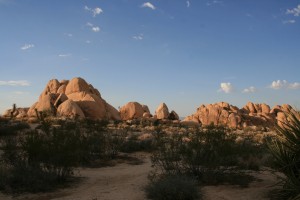 However, I did make an effort to go the extra mile to burn off these extra calories in spite of the 104 degree weather. I spent over an hour and a half swimming, packed up camping gear before anyone else could get to it, and offered to get people food, napkins, and other items in order to walk more.
To make matters worse, a group of us went to Las Vegas in order to celebrate my fiancé's birthday during the week. I was surrounded by delicious treats and vast quantities of alcohol. As with the camping, I practiced very little self-restraint and greatly exceeded my daily point allowance.
However, as a result of all of my practice with this diet, I did not consume nearly as much food or drink as I had on previous excursions to Vegas. Rather than consuming an entire meal and shake at Steak and Shake, I got a "shooter" burger (~4 points), shared fries with a friend (1/2 order = ~5 points), and shared a shake with that same friend (1/2 order = ~10 points). I also did not drink to excess and tried to select wine and other low-point drinks, rather than daiquiris and piña coladas, and I spent as much time as possible in the pool.
Weight Watchers instructs its followers to count points for special occasions, including at one's own wedding. I think this is a bit overkill. As my weight suggests, one cannot do that much damage by not counting for a day or two or four, as long as this doesn't happen every month. Since my fiancé and I rarely get away for a weekend or attend celebratory events, this does not pose a major concern. However, were I to attend parties or vacation regularly, I would definitely keep an eye on my points for the less important ones.
Or, perhaps, I am just making excuses for poor decision making.
All of this aside, I need to get back on track next week.