After last week's emo fat post I resolved myself to put in the extra effort this week to make sure this wouldn't be another check in that sounds like I want to slit my wrists. I have re-read last week's post more than once since then and it all rings true, even now. I knew that I had to shake things up because I felt that way. I knew that if I didn't you'd be reading the same post today and, more than likely, would stop reading my whiny check-ins. I simply can't have that, because I need you all to keep me in line. Like I said in the first post, this journey is so much easier for me if I have people I have to answer to every week. There's no way to hide my progress from all of you and I like it that way. All of that being said, let's get to the good stuff. Besides, I wore a bow for this.
I'm still doing P90X2 and it's still a menace. It's an awesome menace, but a menace none the less. Like I mentioned earlier in this series, P90X2 is completely synergistic. Every workout involves every part of your body. That being said, every part of my body is sore basically all the time. This past week was a bit difficult for me to get through because my usual group of workout buddies were all off on various work trips or unable to attend our daily sessions. Much like weight loss (or most anything) in general, it is always easier when there's someone else there pushing you. Regardless, I pushed through and survived almost every workout since the last time we spoke (I'll get to the "almost" in a moment). The only workout I still tend to skip is yoga. I abhor yoga. I understand that it's great for you. What I do not understand, however, is how something that's supposed to be about centering yourself and breathing and meditation does nothing but infuriate me. I get so frustrated that I can't do most of the poses that I just stop. When we did P90X we started taking a class because we figured if we're locked in a room we can't just stop. It worked out beautifully, too, because the class was on Thursdays and that was yoga day. Now it has all flipped around so the class schedule and our yoga day doesn't match up. Up until now I had been replacing yoga with other cardio work, which was usually about 30-40 minutes on the elliptical with it set for cross-country resistance. Yesterday, however, I plowed through that horrid yoga DVD and I did so on my own. Yes, I would love to pat myself on the back. Thanks!
Why did I "almost" survive every workout this week? It's mostly because I didn't really do them all, at least not the workouts listed in the P90X2 program. On Friday I was sitting at my desk and I felt this urge to get the heck out of Dodge. I can't tell you what came over me or why, but I can tell you that around noon I left work, drove home, packed, and hit the road to Frisco. I call San Francisco "Frisco" because people who live there hate it and, being from Los Angeles, that entertains me. But I digress.
I went up north to visit some friends of mine who we'll call "Todd", "Stephen", and "Abigail" (names changed, anonymity, etc.). Stephen and Abigail have three delightful children who love to use me as a jungle gym. Truth be told, they like to use most anything as a jungle gym, but I am the thing/person they climb the least so that's why I say I "almost" survived every workout. I may not have done the P90X2 version of exercise, but I definitely got my weight and cardio work in playing with the young 'uns over the weekend. I even got some "Aquatic Scott" time at the lake on Saturday: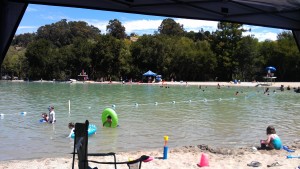 Thank goodness I did, too, because trips to see the gang usually result in a good amount of alcohol being consumed. I also ate some post-lake pizza at this great joint but, apart from that, I think I did pretty well.
Sunday it was a long drive home and back to business. I crashed early that night, exhausted from the weekend and wanting to be fresh and ready for the final push towards my weigh-in.
Monday I ate normally (oatmeal, salmon and wild rice for lunch, and some eggs and beans for dinner) and Tuesday was more of the same. When it came time to weigh in I discovered that despite my slight weekend bender I was able to shave off a couple of pounds.
It felt good to see the number drop, that much is certain. I'm hoping to keep up the work moving forward but I know that sometimes things don't always go our way. However, just because the river flows a certain direction doesn't mean you can't paddle against it.