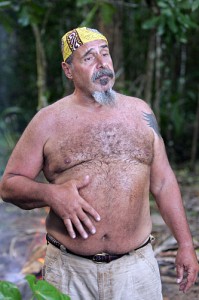 My name Is Mike Borassi and I was on the show "Survivor" three years ago. I made to the show in Brazil but at the last minute I was medically bumped off for being overweight and high blood pressure (175/ 95). I thought I was done, but I lost weight and had a jaw operation to cure my sleep Apnea and they did indeed bring me back for season 19 Samoa. I only had a few months and wasn't at my ideal weight and as fate would have it, I was medically eliminated from the show six days in from severe dehydration. It was one of the toughest Suvivor seasons of all time. But for the finale, I lost a total of 65 lbs. Now three years later, the weight has crept back up and I am determined to lose it again for the last time (I am 65).
I have started a new diet, philosophy and way of life with my trainer. Its called the Paleo or Cave Man diet and this seems to be the final solution for me. It is working very well and fast for me. I have read three books on the caveman diet and am changing my lifestyle and initiating it to my daily routine. Basically, it`s easy — No grains (wheat, flour, rice, potatoes, legumes) or processed foods and very little dairy and cheese.
What you can have is meat (preferably grass fed) fish, chicken, fruits, vegetables, nuts and seeds. An easy way to do it is, think of it as what a caveman would eat before the advent of agriculture 10,000 years ago. I`m learning more each day and have lost 6 lbs the first week but as with any diet, the first few weeks are easy to lose water weight. But, I feel different with this program. I feel good, energized, and have lost those agonizing cravings to gorge myself. I am working out six days a week and have modified that with my trainer. When my friends ask me 'how`s it going?' all I say is it`s like the man who jumped off the empire state building, people on every floor heard him say "SO FAR SO GOOD."
I am very optimistic and dedicated to this, so let`s see what next week brings. Stay healthy and Peace.