Well it came sooner than I expected, but this week I hit the Dreaded Plateau of very little weight loss. In fact, I only lost 1 measly pound ( I am at 260 even). I really wanted to break under the 260 mark but not this week. I was religious with my routine of workouts and diet (Paleo) but this is inevitable with dieting. Your body is settling down to things, the water weight is done and now it is nitty gritty time not to get discouraged and quit. The honeymoon is over, so to speak, and it is vital and crucial to get passed this emotional and physical roller coaster of the program. Even on the "Biggest Loser" they hit the wall after a couple of weeks of tremendous weight loss. But, this is a life changing process so I am going with the flow. It is hard to step on that scale though after a week of hard work and determination and see that number. Of course I went through the usual excuses in my head of, the scale must be broke… I am reading wrong numbers… It must be water, etc… but the truth hurts sometimes and for an instant I wanted to say screw it and go have a Dennys Grand Slam breakfast with extra pancakes and home fries and a vanilla shake just for luck.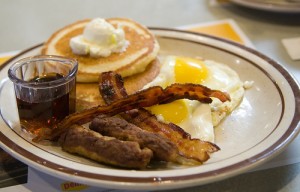 But I didn't. In fact, I had a nice egg white protein shake with blueberries and Almond milk. I maybe will even fast two days this week to maybe boost the weight loss. For lunch, I had a great free range chicken BBQ breast with spaghetti squash and an avocado. The free range chicken is really delicious. It has a real chicken flavor rather than the bland tasteless flavor of regular chicken that you buy at the supermarket. It is a little more expensive but well worth it. My next move is whole free range chicken, marinated with some Asian flavors (soy, lime juice, fish sauce, rice vinegar) and put it on my Ronco set it and forget it rotisserie. It comes out fabulous with regular chicken so I can`t wait to try this. I also have been trying some wild boar loin chops and ribs. They too are delicious and really gives me the feeling of the CAVEMAN diet. I am feeling better and the cravings and going away I`m noticing. I guess my insulin levels are not spiking from the crape of sugar, fructose, corn syrup, gluten and such and the diet is really making sense.
Since the summer is winding down I asked my trainer to intensify my workouts so I hit the fall season and holidays in great shape to try and get a head start on that whole holiday eating scene that we all will facing in a few short weeks. Halloween will be first and that excuse of having all that candy around for the trick-or-treaters is starting to swirl around in my head. We haven`t had a kid come to our door in 17 years yet I am ready every year for them and… Gee… I guess I`ll have to eat all this leftover candy before it spoils. Also my trainers website is still under construction but soon it will have a nutrition section and give tips, recipes, resources for free range and grass fed beef.
Until then… Stay thirsty and hungry my friends to stay true to whatever program you are on, stay the course, be strong and remember that time flies so if you keep true you will hit your goals before you know it.