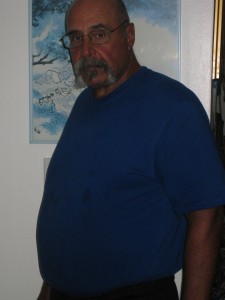 Ok. it's been over a month and I am definitely feeling the effects of the Paleo lifestyle. I don`t want to say diet anymore because it denotes something that is temporary, a quick fix to loose weight. This is however a change in the way I`m living and giving my body the food that it is genetically made to eat. 10,000 years ago agriculture was introduced and that changed the way we ate up to now. No longer did we rely on meats, fowl, fish, roots, plants, fruits, nuts and seeds as our diet. Beans, legumes and dairy were developed and today it has become the abomination of processed foods, refined sugars and flour and vegetable oils. The opposite of what our bodies are still made to eat. And we wonder why we have the plethora of ailments and diseases and in-tolerances that is disgraceful in this country.
Since I eliminated these things in my way of eating I am finally feeling the results. I don`t feel bloated and disgustingly full after a meal. I've had no gas, upset stomach and my digestion is great. I haven`t been congested and even people have said my skin and complexion look really good. I`m 65  and no one has ever commented on my skin. Give me a break. I`m not doing facials or using creams, just eating like we are supposed to. I lost almost 5 pounds this week and if I can load up my picture, I still look in my eyes as fat but when I compare it to when I began I can see the difference. And that is a good thing. To actually see the results starting to kick in is a big boost in continuing on. In fact I am pumped to work out harder and really get into the Paleo/caveman/health way of life.
I don`t want to preach or convert anyone but I am saying, for me, this seems to be the thing that is really working and changing my life. I am reading more books (so far four on the Primal blueprint of life) and becoming more and more well versed on the subject and also cooking Paleo. I don`t want to get into the technical aspects but generally speaking I am keeping my insulin level stable, have lost the cravings to eat processed sugars and processed foods and it makes sense and  is working for me. I am not fanatical about this either. In fact, this weekend I went out to dinner with my wife and friends and ate Thai food. I had brown rice (not really a Paleo food) and then later that night I ate two frozen fruit bars. It was a cheat night and it didn't kill me or make me feel guilty. It was really good but it wasn't like an alkie going off the wagon into oblivion again. The next day I was back and like I said I lost almost 5 lbs. this week. So if you are struggling with your program whatever it is, or it`s not working for you, punch up Paleo in a search engine and read a little about it. More and more people are becoming aware of it. I even saw a commercial on TV about gluten free cereal now available. Even the big corporations are trying to cash in on it. Until next week… stay the course and be healthy.