I landed Sunday for N.Y. and have left for R.I. Some guy was sneezing on the plane two seats over from me and I said to myself" I hope I don't get this guys cold". Well Monday morning I got the tickle in my throat and that feeling of  "CRAP I'm getting sick" so I didn't eat on the plane or all day. Monday I just had chicken soup and Nyquil for dinner. Today is Thursday and I am fighting off the cold, its not getting worse but I feel lousy. I'm lucky in a sense that I haven't been tested yet because of getting sick. But I have been out with friends at restaurants and other eateries and although the food smelled and looked good I really didn't want to eat that way. It felt good to do that.
You know now that I'm also clean & sober for 8 years, so the addictive behavior was under control. Eating was just as bad as my other addictions and abuses. Growing up in the late 60s early 70s, the munchies were an excuse for eating anything in the house up to and including sucking ketchup and soy sauce packets. In the 80s, food wasn't involved too much because EVERYONE was doing blow which didn't make food appealing to me. So now in my 6 1/2 decade of life I seem to be able to put my demons at bay. It is always a threat, it never becomes a done deal, it is a lifetime of working at it. But I feel so much better each week on this lifestyle. I weighed in today at 244.5. Not much but still a loss. If I feel better tomorrow I am getting a lobster roll with melted butter. It will be my once a month cheat day but only if I feel better. I want to enjoy it not spite myself and eat it even if I can't taste it. I haven't been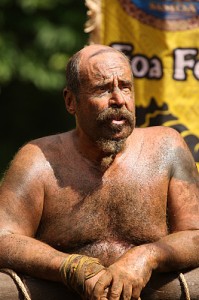 working out either. Some people are fanatics and work out on vacations or traveling. Not me, I put in enough time at home that it is a rest and recoup time for me. In the past I have been know to pack on 25 pounds in a week on a trip.
Last night on the premier of SURVIVOR they showed a clip of me passing out showing to the new contestants that Survivor is no joke. I looked FREAKING HUGE. I was about 275-280 then. I was passing out and I looked like a bull being neutralized at the slaughterhouse. Good look at how it was and it only make me feel better and stronger to do this. I still have 11 more days on the road so I must be strong, I could fall very easily but I won`t. Next week FLA.
Stay on your program and stay thirsty my friends.