Hello again!  Last week I lamented a bit about how these posts tend to blend together and sound like the same broken record over and over and over again. Not today, kids. Today will be a delightful post full of fresh and new things. Okay, maybe not entirely fresh or completely new, but it has been one heck of a week for me. Let's get started.
After last week's three pound loss I felt great, despite the fact that it was really a culmination of a two week period due to the battery in my scale going off to battery heaven after week six. I suppose it might be battery hell, as I never spent much time talking to it and have no opinion as to the demeanor of said battery, though he lived a life full of purpose despite being stepped on constantly.
In any case, I felt (and continue to feel) a new sense of resolve with this new challenge. Circumstances being what they are, I can't think of a time in recent memory when I've felt better about where I'm going with this whole thing. Since it is Week 8 it's time for the ol' progress picture: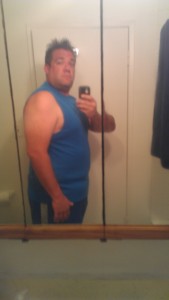 I'd like to stop for a moment and apologize for the quality of the picture. First of all, many of you know how much I dislike those mirror/phone self-portraits so I feel dirty even putting this up here. I had no one else to snap a photo, though, so it'll have to do. I also apologize that I'm not more enthusiastic in the shot, but I had just gotten out of the shower and it was early this morning. No coffee, no happy. For the record, I know coffee isn't the best for you but I have one cup a day and I drink it black so, from a weight loss standpoint, it's inconsequential.
This past week was the one where the workout routine began to change fairly dramatically. As I believe I've mentioned in past updates, P90X2 just isn't cutting it for me on a grand scale. The original was much more fun and I rarely dreaded doing it. This one just blows, to be honest, so my workout buddies and I decided to make a "greatest hits" version of it, mixing the two workouts we like from the sequel (P.A.P Upper and P.A.P. Lower) with some of the original favorites, like the bicep workout. Oh, how I love the bicep workout. Mix in a couple more days of cardio and boom, it's P90Skeeze. Look for it on shelves around the holidays.
So, the gym life this past week has been solid. While I'm not dropping weight as much as I would like I still feel as though I'm making good progress. Things are getting tight where they should to be and loose where they need to be. I know I'm getting stronger because the weight rack and my reps tell me that. That's exercise repetitions, mind you, not my legal reps (though he's very good).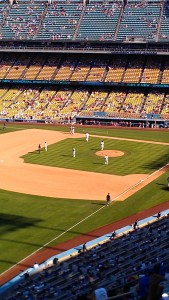 As usual, I had a pretty naughty day over the weekend. Sunday was that day, which I spent in the sun watching the Dodgers take on the Cardinals with a friend. She hadn't been to a game in years and we picked a doozy to attend. Twelve innings, a few beers, a Dodger dog, some peanuts, and a Cool-A-Coo later, the Dodgers had lost but it was a great day at the ballpark, as are most days at the ballpark. For those of you who don't know, a Cool-A-Coo is an ice cream sandwich that has been absent from Dodger Stadium for fourteen years. It is made from two oatmeal cookies and then dipped in chocolate. Messy, not good for me, but amazingly tasty. A couple more beers were had before the day ended. That was certainly my naughty day.
The rest of the week played out as per usual. I ate right, usually chicken and veggies which have become my staples. Exercise was the two P.A.P. routines followed by cardio and when I stepped on the scale this morning I was down another pound. Not flying off, but at least the needle is moving in the right direction.
So there it is. Eight weeks down. For those of you fighting, keep punching. It sucks, I know, but it's worth it.