BLAAAAHHH!!! This week has been a very difficult week for me. I got very sick over the weekend with a migraine, sore throat, bad stomach issues, and a mild fever. I thought everything was pretty much over on Monday when I went to work, but by the end of the day, I was completely zapped and ready for bed by 9 p.m., which is very early for me. I overdosed on vitamin C, popped a cough drop in my mouth and went to bed. After waking up three times during the night, I had to convince myself to go to work. I took a dose of Advil Cold & Sinus and went on my way. As the day progressed, I appeared to be getting worse.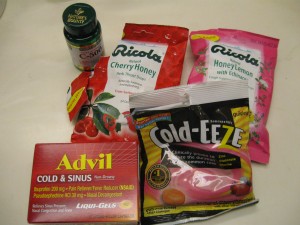 Every new school year I seem to get that first cold that just does not want to go away. Since I work in a virtual germ factory known as a school, it is a wonder I am not sick most of the time. When I am off for the summer my immune system weakens, so when I go back to school, I usually get sick within the first month. Once that initial cold is over I'm pretty good until the flu season kicks into full gear during winter.
The difference with me is that when I get sick, I want to eat more because it makes me feel comforted. Food has always been a crutch for me and this definitely fits into what helped to get me over 300 pounds. I have had to be very careful over the past week and constantly remind myself to not slip into my old patterns. I have slipped a time or two, but nothing to drastic. I still had my salads for lunch. I still tried to eat a healthy dinner and breakfast was still eaten in the car, but what changed was my bread intake. Bread is one of those comfort foods for me, especially if it is nice and warm and topped with a small amount of real butter. It takes me back to when my mom used to bake bread and we would eat it warm from the oven. What I really should do is just smell the bread rather than eat the bread, but I'm not sure if that would bring me the same comfort that eating it does.
Since I was sick this week, I did not attend my Weight Watchers meeting for the first time since I started on this journey three months ago. I am not sure if I lost or gained, but I know that if I did lose it was not a significant number since I have not had the strength to work out at all. The most exercise that I have gotten this past week is standing in front of my classroom lecturing to my students. I have even been too low on energy to walk down the four flights of stairs, so I have been taking the elevator in both directions. This is very unusual for me, but I am definitely ready to be on the mend and get completely back on program.
For this week's quote, we revisit Albert Einstein. "We cannot solve our problems with the same thinking we used when we created them." If I were to try and lose weight with the same mentality, patterns, and laziness that it took me to gain the weight in the first place, there is no way that I would have a fighting chance at even coming close to losing weight.