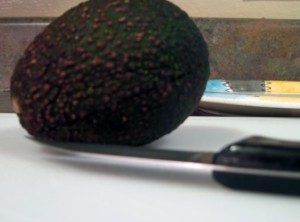 Yogurt, Kashi cereal, lettuce, tomatoes, avocado, pasta, chips and verde salsa.  That's what I have eaten this past week, and pretty much every week.
Every morning I wake up, drink a glass of water then wait until I'm hungry which usually takes 30 minutes to an hour.  I put three spoonfuls of Yoplait strawberry yogurt into a bowl and then one spoonful of Fage Greek yogurt.  I know that there are benefits to eating Greek yogurt but I hate the taste so I try hiding it.  It works.  Though, it should be 2 scoops of each, maybe even 3 of Fage.  I'll work my way up to it.  Sometimes the consistency of yogurt makes me want to gag or I want some crunch, so I add Kashi Crisp to it.  It's like I'm eating cereal only milk is replaced with yogurt!
For lunch, I usually either have a salad or make a serving of pasta.  Most of the time it is pasta since my lunch is right before I leave for my evening shifts at work and I want to make sure that I'm well fueled for my 8 hour day ahead.  I use the sauce as sparingly as I can.  I like to buy the whole wheat pastas.
For dinner, now that's where I get tripped up.  Typically, I am at work at this time.  If I haven't had time or just haven't done groceries yet, I will have to eat at the commissary. They are not very vegetarian friendly… Everything that I latch onto tends to disappear!  For awhile I was eating grilled cheese (American on wheat with avocado and tomato) and fries came with it.  Then they started having a salad bar and I was in heaven!  I was also spending 3 dollars more.  When they took the salad bar away, they started doing wraps (basically salad on a wrap) and that was the same price as the salad only with additional calories from the wrap…  I hated this price point for the wrap I got because it is the SAME price as a wrap with MEAT!  Consumerism? I'm not consuming it and I'm still paying for it!  Then… yep, they took away the wraps and replaced it with burritos and tacos.  I tried their veggie burrito, it's huge.  And the veggies?  They took a wallop by a grease monsters fist.  This burrito is an additional dollar of the price of a salad.
Why do we live in a world where salad is more expensive than grilled cheese and fries?!  Just in general.  Here, we need to eat healthy and we know it so we're going to charge more for it!
I took the hint. I needed something different.  Over the past few weeks I've been under some freelance deadlines and working 40 hours per week, as I didn't have time to make my dinner so I bought those microwavable ones.  I've never really looked through this section but the only one I saw veggie friendly was mac and cheese.  Only mac and cheese!  Then I realized there is probably more next to Boca and Morningstar burgers and I was right.  I went with Amy's brand since I've read about it before.  I was very pleased and the greatest part about it was it took less time for me to warm it up and eat it than walk over to our cafeteria which means I had about 20 minutes left of my break to get some personal work (drawing a comic) done.
Over the next few weeks, I would like to cook more and learn some tricks so I can make meals to take to work.  This will help me keep my finances down, as well.  I have been watching tutorials about poaching eggs and how to cook leafy vegetables.  I actually thought that things like lettuce, cabbage, arugula could only be eaten on sandwiches or salads.  But no… you can sauté them, you can fry them, and more!  I had no idea.
My eating habits are very repetitive.  If I find something I like, I eat it every day or a lot over the span of the week.  I have never had the urge to learn how to cook because that is a creative skill of its own and I already use my creativity in art and writing.  I feel like I drain myself into those aspects of my life and I have absolutely no desire to do it unto anything else.  Well, until now.  And mostly because, nothing tastes good!  I try to eat for fuel but I also want to enjoy what I'm eating.  If I can control that, awesome!
Being vegetarian sometimes means being innovative.  Some restaurants call a bowl of lettuce, "salad".  It takes 2+ to salad, people.