What a week this has been! I went to go see Dr. Polisky as I told all of you I would but because I ended up having a late start leaving my house because I was not feeling very well and we did not have luck with the buses by the time I arrived at his office he had already left to do rounds in the hospital. I still did my blood tests and I weighed my self. This was the shocker. Dr. Polisky's scale said I was 353 lbs.!!! I almost passed out. How is that possible? Just two weeks before when I was in the hospital I was 339 lbs. and when my scale was working I was 339 lbs. Now I know I was dressed in street clothing but that would not weigh that much. I know scales can have a difference in balance and weigh but 14 pounds? I KNOW I have been sticking to my regimen. I have been very good. Something is definitely wrong here!! I tried VERY hard NOT to go into a panic attack. I made another appointment to see Dr. Polisky to get the blood test results and to discuss why the sudden weight gain IF it is a real weight gain and not just a difference in scales. I mean my wacky scale at home was saying I was between 342 and 339 moving up and down when I weighted myself the next morning. Needless to say this could very well sent me off into a very bad depression but I have to say even though I did get a bit emotional… who wouldn't… I think I handled it pretty well. It did not send me off into an eating frenzy or make me feel I should just give up. If anything I did re-examine what I have been doing and I did realize that I will I have been good, I have kind of relaxed a little here and there which does happen so I have to recommit and tighten up my regimen. Eliminate more sugar. I am weaning myself to only having one diluted splash of coke and seltzer a day. Drink more water.
Another thing I am doing is seeing Dr.  Kashani on Monday to start the ball rolling for the surgery to remove my tummy peliculis. I FINALLY know when I am doing the movie!!! YIPPIE!! I have had a couple of meetings with my director and producer AND I have met my leading man!! I have a final costume fitting this week. My leading man and I will be getting together by ourselves to get to know each other and rehearse also this week. I am very excited about doing this movie. It is going to be a challenge and a wonderful experience.
These are definitely the winds and times of change for me and also for Walter too for what affects me affects him. It's interesting that at the same time I am having not only a physical transformation but now a career transformation. This is what I have been wanting so much. Both are extremely big risks I am taking and I am scared but the prize is so great and I am worth it and Walter is so worth doing it for. He's stuck by me all these years and has not only been there for me but also my family when they needed him too. He deserves some payback. There is nothing I would like better than to be able to someday make life easier for him. That's what marriage is. That's what love is.
I am really blessed and lucky that me… a morbidly obese woman with disabilities… an actress… has met this medical team which is helping me get my life back together and has been given this wonderful gift of this film against all odds. Parts that are tailored to me likes this are so extremely rare. Producers, Writers and Directors like the ones I am involved with are so rare. True this is an independent film not a big studio budget but the best films and the most creative and risk taking ones are the independent ones. I could very well not be doing another project for a long time after this one but who knows. I plan to relish every moment.
Let me also say I am also lucky and blessed to be doing this blog!! I thank the creators of this website and bless them! I am so happy they let me share my journey with all of you each week. This blog and all of you have become very important to me. I hope we all remain together throughout my long journey!!!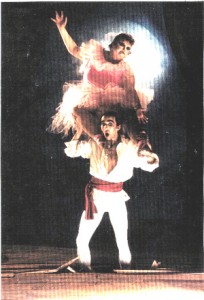 Now since this is our 12th week together I think it is about time I did a bit more sharing… as if I didn't do enough of that already… about my show business career. For those of you who have not seen  them already, I have some clips on You Tube of some of my film, TV, and cabaret performances. So here the link to my acting reel now…. have some fun watching it….
http://www.youtube.com/watch?v=XfoU8F8gZkM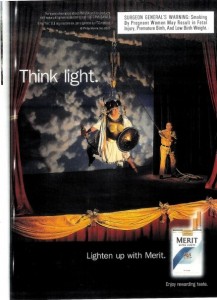 I will post other links through the weeks.  This picture is from a print job I did years ago.  I love doing wild & challenging things!!  Here is another… my flying Brunhilda… I was flying at least 30 feet up in the air for this one!!! Nothing like flying!!!
Well that's it for now everyone. Have a wonderful blessed week. Remember to take it a moment at a time and be good to yourselves… Much Much Love.. .keep the comments coming and please share!!! xxooo