WELL!!! What a very busy, interesting and wonderful past ten days this has been! I am being a very naughty girl and getting this in a day late and I beg all of your forgiveness but I think you all will forgive me. Things are really starting to go in a positive direction even though I am back on the dreaded Island Plateau. According to my insane scale I am still flitting between 339 lbs and 342 lbs AND according to Dr. Polisky's scale that I was on earlier today when I finally got to see him I was 349 lbs… 5 lbs. less than 2 weeks ago when I first weighed myself on his new digital scale when I went for my blood test. I asked him how was it possible that I gained weight when I have been following the regimen he put me on and that I started? He knows how hard I work at it. He trusts me. I asked him could I be going towards CHF again? (congestive heart failure). He said no. He said very honestly 'who knows why this happens'. You can follow a diet regimen perfectly and your body just decides to do what it wants to do especially when you are diabetic. The same thing happens with blood sugar. You eat perfectly and your sugar spikes or it tanks. It is not a perfect science. The best you can do is to make adjustments like the ones I talked about in last weeks blog which I have been working on. He told me I am doing very well though with my taking off weight so do not give up. He also told me my blood work looked very good with my AC.1 level getting better all the time… it is now 6.3!!! Each time it gets lower. Now it is border line. I kept going the way I am next time my AC.1 will have normal reading!!! 😉 Dr. Polisky is letting me now start taking less insulin. Because of this I am going to have to be even more careful about what I eat to make sure I do not spike high. I also have to not stress too much as stress can raise your blood sugar too… that is going to be a challenge as some of you know how my life is and all of you know how dramatic I can be
I will do the best I can. The less insulin I take the easier it will be to take off weight. Taking insulin does make it harder to take it off.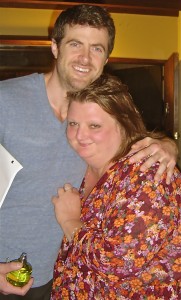 So when I got home I had just enough time to get ready for my rehearsal with my leading man from the film I start shooting at the end of this week. His name is Adam Marcinowski. He is a very talented actor and also a wonderful man. He is such a pleasure and easy to work with. I am VERY blessed and lucky. We had a VERY good rehearsal this evening. We are going to light and burn up the screen!! We are a FABULOUS team!!!  Unfortunately I can't tell you all what we are doing and what the film is about because I am under a NDA ( that is a Non-Disclosure Agreement) but trust me everyone… you will all love it!!!
Last Wednesday was a very eventful day. It started out with an audition at Paramount Studios. It was so good to be back on that Lot again after all these years. It truly symbolized for me that I am back!!! The audition was for a part on the NBC sit com "Animal Practice" but the show was cancelled the next day. I was not upset because my audition was a very good one and the casting director could not have been nicer. She was not put off by my disability at all. I think I can safely say that I made a good impression and I will be called back by that casting director in the future!! After my audition Walter and I stayed on the Lot for a little bit and had some coffee. It felt so good sitting there. Everyone who walked by me said hello to me like I belonged. It was great!!!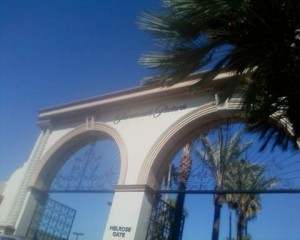 Wednesday was also the 10th Anniversary of my mother's passing and Monday was my parents 56th wedding anniversary. Both my parents were cremated and their ashes were put in the Atlantic Ocean off the south shore of Long Island. My father's in the spring of 1991 when we rented a boat and went out on it with friends and my mother's in the spring of 2003 and we rented a boat again and this time it was Walter, my niece Victoria who was just 6 1/2 at the time and our dear friend Brian James Grace whom my mother liked a lot. While Walter and I were having coffee at Paramount  I thought of my parents, particularly my mother and how happy they would be to know that I am starting to get my career back.  That I have been fighting so hard for it. They both knew, especially Mom how for years I wanted so much to come out to California but things were always getting in the way. She wanted me to come out here and make my dreams to true. As I write this tears are streaming down my face as clarity is coming that she did help and contributed to make my dream come true. It's personal and I can't say how but those of you who know me can figure it out. That's what's makes it so so hard my getting sick out here and disabled and my dream almost dashed again. That's what makes it such a miracle and so so precious… so important. It's not just for me that my dream comes true but for her… for my mother. My mother's dreams were dashed and yes she gave me a very, very hard time and our relationship was tumultuous to say the least but in the end there was true forgiveness and peace between us and love… and mama left it so I can do what she did not have in her life… to have her dearest dream come true… "Mama… I FINALLY understand…"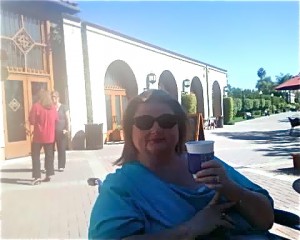 Well, I'm catching my breath here. Sitting there in the Paramount Lot sipping my coffee I asked Walter if he would mind that since we were down in Hollywood anyway just a block away from Sunset Blvd. where we could take a bus all the way out to the Pacific Coast Highway where we could then get a bus that would take us right to my favorite place, Malibu Pier. I wanted to throw my mother's favorite yellow roses into the ocean for her and my father. Since it was just around noon and it was a gorgeous day albeit hot he said sure. He could tell it was important to me. We first bought the roses. We found some beautiful yellow tinged in pink ones just like the ones the grew in my grandmother's garden for years. She loved those roses. I took that as a sign that we were meant to do this. So on the bus we went. It took a while but it was a beautiful day. The Pacific Ocean was just magnificent. The sun just sparkled off of the water and it was so calm. I kissed each rose before I tossed each rose in. I especially kissed a rose for Brian as he asked me to. I had texted him that I was going out to the Pier to do this. He and my mother had a great relationship. When mom was first diagnosed with breast cancer and had her mastectomy and started her chemo she was very depressed and would not smile. She was with us when Walter and I were picking Brian up from work as Brian and I had a rehearsal together as we both were engaged as vocalists to sing at St. Rose of Lima Church in Far Rockaway Queens NY for  Special Mass. Brian gets in the back seat of the car and they start talking. Mom says to Brian that she just started her chemo and she is going to lose her hair. Brain just looks at her in his very charming way and says sincerely " Well….wear a hat!!!" Mom just looks at him… total silence… then she just breaks out into this BIG smile and bursts out laughing!!! This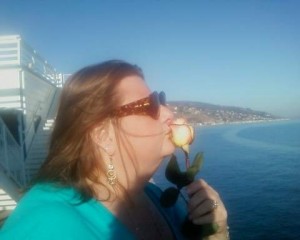 was the first time mom had smiled or laughed since she was diagnosed. God bless Brian. I truly believe he saved her because her spirit was much better after that. After all the roses were tossed in we watched them for a little bit float out then started the journey back home…
My goodness this is a LONG one… there is so much more I want to say but I am afraid this could turn into a book and it's already almost 4:30 AM as I write this so I will bring this to a close for now.
I thank you all again for being here for me. You all are so wonderful!!! I look forward to hearing from you!!
Till next time!!! xxxooo