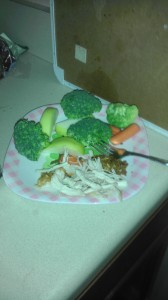 Last week was a major setback in my weight loss. I managed to gain back a chuck of weight that I lost and pretty much set myself back a week or two. This past week was a major comeback. Not only did I lose my sick weight, I shed a few more pounds. Although I have yet to see major changes in my pants size, I feel like I am getting close. The scale does not matter that much to me and I am starting to get anxious to look better in my clothes. I have a bad shape I think, I have skinny legs and I'm very lean all the way into my love handles. From my supposed waist up, I am chunky and flabby. My stomach is pudgy, I have huge love handles, and my arms are filled up with soft fat.
One major thing that I want to brag on myself about is that I broke my big toe, but sucked it up and stayed on track. Although it hurt, there was not anything any doctor could do for it except prescribe me medication that I won't take due to breastfeeding. What I did was stuck to the treadmill and walked at a high incline instead of running like I usually do. I also stuck to barefoot walking, which is something that I do a lot of the time anyways. It definitely helped to not have the shoes pressing up against the point of my toes. The reason I brag is that I proved that I can handle adversity and still lose weight. That has been my huge enemy my whole life, especially pertaining to my health. As soon as something unfavorable comes my way, it's all over. Last week it was being sick, which is certainly don't blame myself for,  and even though I gained weight, I think I handled the 'aftermath' like a champ.
A major concern that I am having is how I am going to do on my journey during the fall and winter. The cooler seasons in Georgia are not that brutal, but I'm a warm weather gal and can't stand even the tiniest bit of cold. I actually follow a pretty consistent pattern with my weight. Normally, I hold a steady weight throughout the warm weather months and make it through the holidays, and then succumb to the winter blues sometime in January. Oddly enough, Thanksgiving and Christmas have never been too much of a problem. I actually do not like to eat around other people, so those social pig outs have never been tempting for me. Actually, I sometimes lose a few pounds right around the middle of the holiday season; all of the running around and shopping keeps me on the move. It's those super cold months, when it starts to actually snow infrequently and it starts to feel like the sun has not warmed me up in forever. We'll see how it goes; maybe I will find some indoor activities to keep my mind off the chilly months.