Weekly Weight Update: +1
Inches lost: Chest: 0" Arms: ¼"  Waist: 1" Hips: ¾" Thighs: ¼"
OK, so not what I was hoping I'd be writing about in week 7, but it's hard to really beat myself up to much since this is the first week in eight months that I had a + sign in my weekly weight update.
So, Friday morning comes and I get right back on the program.
I'm not going to kid myself or anyone else reading this: I know what caused the gain. I went on a sugar binge. Some Thin Mint Girl Scout cookies led to Strawberry Short Cake at the Elephant Bar/Grille, led to cookies at the networking lunch, led to… you get the story.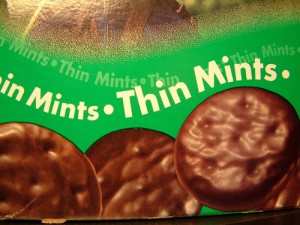 I want to talk about journey vs. destination. I've set a goal for myself to lose 80 lbs. in one year. So far, even with this +1 gain I'm on track to make this happen. But the experiences that happen along the way I hope will make me stronger, not just thinner. A fear a yo-yo dieter (yeah, I'm talking about me) is that once you hit the goal "number" you go back to eating the same way, thinking the same thoughts, and bam, the next thing you know you are right back where you started.
Losing the 80 lbs. is important to me and my health. Being a healthy weight with a strong body is key to implementing the next phase of my life. So why would l let some Girl Scout cookies derail me? Why do I let SUGAR derail me? Could it be that I'm a sugar addict? I was doing fine up until two weeks ago. By fine I mean I wasn't having sugar cravings, chip cravings, junk food cravings, believe it or not I was enjoying the discipline of eating healthy. It gave me a sense of control over my body and put an order in my life that I like.
Two weeks ago I had dinner with friends and we did the "one dessert many spoons" routine. Oh, a few little spoons of carrot cake won't hurt. After nearly eight months of steady and consistent, my body went bizerk with the sugar. Now I crave it all the time. I did some research on this and found three things that might be at the cause of the cravings:
 Not enough water.

I go up and down with my water intake. When I first started the program I tracked how much water I drank daily. As time went on I stopped tracking and most likely drank less. Research shows that sugar cravings increase when your body is not hydrated.

Not enough protein

. I find this interesting since I monitor my protein daily. I am a vegetarian so I'm wondering if maybe I'm not eating the right kind of protein. More research needed here.

Vitamin deficiency.

I'm inconsistent with my multi-vitamins, potassium, and calcium/zinc. Hmmm…. I'll have to watch this.
So, now what? I continue to be grateful for the progress I've made this far and can start to see some of my dreams come true. I'm definitely feeling the benefits of being 43 lbs. lighter. I will continue to study and understand my body's response to sugar and how I can control it. I just may have to swear off sugar forever and would that be so bad? We'll see. I'll keep you posted as I explore the sugar vs. (wo)man. Either way, if it's between me and the Thin Mints; I'm going to win!
Inspirational Quote: "I count him braver who overcomes his desires than him who conquers his enemies; for the hardest victory is the victory over self." —Aristotle