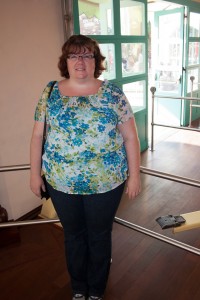 Being "fat" has always been a challenge that I have had to deal with in my life. I feel like I have spent the majority of my adult life yo-yoing between the same 100 or so pounds and I have never been able to successfully keep the pounds off for more than a year at best. The good thing is that I do not look like I weight just over 300 pounds. I'm fortunate enough to be tall and I hide my weight well. On the other hand, because I hide it well, sometimes I don't even realize that I'm as heavy as I am. I don't see myself really being this heavy and that hurts my weight loss goals.
Over the past eleven years, I have been on Weight Watchers a total of five times. The first time was the most successful for me because I lost around 70 pounds and I kept it off for a couple of years. I had a workout partner and my roommates were all on the program with me making it much easier for me to stay on track. After a couple of years, I stopped following the program and my weight gradually started to climb. Since then, I have tried to get back on program, attend meetings, track my food, exercise and such, but all on my own. Needless to say, I lacked inspiration until recently.
I went to the doctor in June and he basically told me that if I ever plan on having children that I need to lose the weight and I need to do it now.  I have never cried in front of my doctor, but I was full of tears because I have always wanted to be a mom. For the past four years my husband and I have been trying to get pregnant, but have been unsuccessful because I have PCOS (polycystic ovarian syndrome). This basically means that I have hundreds of small cysts surrounding my ovaries that squeeze them and make it very difficult for me to ovulate. There are several other side effects, but that is the one that concerns me the most. I have known about this for several years, we have tried a variety of fertility methods and have not been successful, and I still continue to let the weight continue increasing. I was placed on medication and it helps to control parts of it, but if I don't lose the weight the cysts will continue to squeeze my ovaries.  He told me that if I can lose at least 80-100 pounds the chances of my getting pregnant will exponentially increase. So why haven't I already dropped the weight?
First of all, it's not as easy as everyone thinks it is. Food is my addiction and sitting on my butt is my vice. With that combination it is difficult to lose the weight. Next, I don't have a partner to help me like I did before. Yes, I have a very supportive husband but he is 6'6" and weighs barely 150 pounds.
As I try to cook to get him to gain weight I adversely do the same. I have found a walking partner and have rejoined Weight Watchers to get some support, but I need more. I feel that by having to write about my journey each week it will help inspire me to stay on track, especially since I promise to be completely honest about my emotional journey. The final problem is that I'm 35 years old and I don't have much time left on my biological clock. Yes, this should put more urgency behind me, but it sometimes make me feel overwhelmed and that it's not possible.
The good news is that on the day my doctor my changed my life, I rejoined Weight Watchers for the last time. In the first six weeks I have lost nine pounds, started a walking program, and am trying to track my food every day. Those are successes alone, but I need to keep going.
Over the past month I keep thinking about the lyrics to Calvin Harris's song "Let's Go", "it's not about what you've done. It's about what you doing. It's all about where you going. No matter where you've been." I have to stay in the here and now and forget about what got me to this point and think about what I can do to change my life and make it better.
Current Stats: Weight – 300.4, Height 5'9", BMI 44, pant size 24
First Goal: Lose 10% (get down to 280 pounds)
Overall Goal: Get below 200 pounds