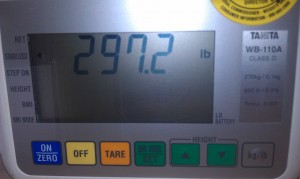 I walked into my Weight Watchers meeting on Tuesday night and nervously headed for the scale. I was trying to think happy thoughts because I was hoping that my first major goal of being below 300 pounds was finally reached. I have not been below 300 pounds in almost two years. I handed my weight tracking book and my phone to my leader when I walked up to the scale and she gave me an odd look. I told her that I had an odd request; if I finally weigh less than 300 pounds I wanted a picture of the number on the scale.  As you can see by the picture posted here, I finally reached my goal and in a big way. I lost 3.2 pounds this week which is triple what I have been losing in previous weeks. I was ecstatic.
Here is some basic Weight Watchers information: You weigh in once a week, stay for a meeting to discuss a specified topic, talk about struggles, share successes, and receive small tokens when you reach certain goals. This week when we got to the share successes aspect of the meeting, I raised my hand and shared my story about finally getting below 300 pounds. I got a standing ovation and a huge round of applause followed by a hug from my leader. I began to tear up and realized that this is what makes me so successful; I have an amazing support system.
My support system extends beyond my Weight Watchers meetings, as well. My husband is great. He is willing to try my new recipes, helps keep me grounded and supports my decisions. My friends understand that I don't make desserts anymore, but instead I offer to bring the salad or a veggie platter. My walking partner won't allow me to cancel our workout sessions unless there is truly a good reason. Not wanting to do it is obviously not an acceptable excuse. My Facebook friends find ways to encourage my progress either up or down, by giving words of encouragement on my wall. All of this combined, helps me to stay focused and on the right track.
This week was drastically different from my previous weeks in that I worked out four times, stuck to my allotted points (which is 46), only had one free meal, and planned out as much as possible. Because I worked hard during the week, I knew that I had lost weight; I just didn't expect it to be so much.
Even though I follow the Weight Watchers plan pretty closely, there are a few things that I do that are not part of the plan, but they help me to be more successful. First of all, even though I am supposed to eat 46 points worth of food each day, I usually eat between 35-40 points. If I eat more than that I feel like I have eaten too much. Finally, I give myself one free meal per week. I plan it out at the beginning of the week and my husband agrees that he won't say anything for that one meal. This week it was our anniversary dinner and I
enjoyed pizza and Pizookie at BJ's and next week it will probably be a new Mexican restaurant that I have really wanted to try out.
Next week, I want to be below 295 pounds which would also be my 5% goal. To make this happen though, I know that I will need to walk more and that can be quite difficult when the weather forecast for the week has every day being above 105 degrees. I won't use that as an excuse though.
This week's inspirational quote comes from Albert Einstein, "If you always do what you always did, you'll only get what you got." If you want to change something then get off the couch and start moving because that is the only way that anything will ever change.