When I awoke this morning I felt anxious, knowing full well that I needed to weigh myself and check in with all of you good people. It was a good feeling, though, because I actually kind of missed that excitement after doing it every week in 2011. What would I weigh? Did I lose anything? Will I be disappointed? Happy? Maybe nothing has changed? I won't spoil the surprise now, but I thought the start of my day was a good place to start today's post.
Now, let's head back to last week when this new journey began. Last week was my first week doing P90X2, the sequel to the popular P90X program. In the original, you worked out six days a week for about an hour a day, taking the seventh day off to rest. The workouts were pretty standard fare — weights, cardio, weights, cardio, weights, cardio. P90X2 is a whole new ballgame and, in my opinion, much more difficult than the original. I am now roughly ten days into it and everything hurts. EVERYTHING. This program is a two on, one off, three on, one off setup. The first two days are X2 Core followed by something called Plyocide. Then you get an "active rest" day, which means doing the hour-long stretching video or some cardio exercise of your choice — jogging, cycling, etc. After that it's time for weights, followed by yoga, followed by another weight-filled workout and then another active rest day. It's the best sweat I've had in quite some time and it's forcing my body to do things that it hasn't done for years. The real issue for me is my knees. They're terrible, having been beaten into submission for years by the daredevil child in me. A lot of the program is squatting and lunging so I have to adapt to those as best I can. This program is much more synergistic than the first, so every workout involves the core. I've also started doing ab work in the morning right when I get out of bed. Awake, stretch, hit the floor, abs, shower, dress, work. It's an exciting life, I tell ya!
Another thing I've started doing is making my lunch for the week on Sunday using my trusty Crock Pot. Here's a shot of everything that went into this week's batch: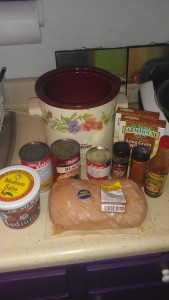 For those of you keeping score at home, it's chicken breasts, kernel corn, fresh salsa, black beans, tomato sauce, some spices, habanero sauce, and two boxes of wild rice. I put it all in the crock pot, turn it on to low, and let it cook for 8-9 hours. This is a very healthy and easy way to eat, plus it stays fresh for the five days that I need it to. Obviously, the recipe works without the rice and I do know that the rice isn't friend to a man who's trying a high protein, low-carb diet but I figure with the P90X2 I need that fuel. I also try to steer clear of carbs after lunch so I think I'm doing okay for now. Breakfast is always oatmeal — plain oatmeal. I buy the large tub at the grocery store and keep it on my desk at work. Dinner is usually chicken or something else filled with protein and devoid of carbs, or at least as devoid as I can get.
Speaking of steering clear of carbs, I did NOT do well on Saturday.  I was invited to the UFC fight at Staples Center by a lovely girl (we'll call her "Venus" to protect her anonymity) and I had a few beers. I also had a chicken sandwich, a lot of peanuts, a few bites of some nachos… typical sports arena fare. That was the worst day I had of the bunch. Otherwise I was able to stick to the plan. In all of my ups and downs with this weight loss battle I have realized that you have to change it up every so often to shock your metabolism. One cheat day a week is usually good enough for that. Does it mean you need to eat your way through Staples Center, though? No, no it doesn't. I just happened to have an opportunity to do so.
One of the big things for me to curb is actually the alcohol. I enjoy a drink or two in the evening but I also tend to be a whiskey man. Liquor is one of the worst things for a diet, obviously. This week I tried having a glass of red wine instead and I actually enjoyed it. Red wine also has a lot of health benefits as long as it isn't overdone. All things in moderation, of course.
So, all of that being said, it's time to come clean on the progress I made this week. I stepped on the scale this morning and discovered that I'd lost four pounds, bringing me down to 280. Not a bad start, and I know I can do better moving forward. Stay tuned.