I'm really starting to sound like a broken record because this week I'm up 2 pounds, which brings me to 225. With all the things I ate and drank, I'm surprised I didn't gain more. I'm not exactly sure where things became derailed, but I think it may have started last Tuesday during a co-workers going away lunch and continued through the weekend.
I was going to spare you the details of everything that went wrong this week, but I told myself I'd be honest, so here it is. Last Tuesday, we had a going away lunch for a co-worker who was leaving to go back to school. Pizza's, pasta's and soda's were abundant and I indulged in all of the above. Not only did I eat that nonsense for lunch, but there was a massive amount of left overs and I had it all for dinner as well. I felt like crap after that, but as all of you carb addicts know, once you indulge, the cravings become more intense and it has the potential to spiral into a smorgasbord of bad choices. This is what happens to me whenever I eat a lot of carbohydrates. I know it will happen before it even happens, but I get drawn into anyway.
I know some will scoff at the notion of food addiction being very similar to alcohol or cigarette addiction, but coming from experience, I've found this to be true. What else would enable you to continue down a path that you know is destructive unless you were addicted? This isn't something I've ever admitted to anyone, but I honestly believe that I have a mild form of food addiction. There I said it! It's out in the open. But as cliché as it sounds, the first step to recovery is recognizing you have a problem, and I have definitely done that. Now, I just need to learn to be stronger than my cravings and to practice self control. I've done it before and I am confident that I can do it again. It's just taking a bit longer that I anticipated this time around.
Sometimes, depending on my mindset, I can keep the cravings at bay, but when I'm not at my full attention as far as staying on top of goals, I lose all control and continue down the junk food rabbit hole. This is what happened this week. I went deep down the hole, and now am attempting to dig myself out.
I also didn't stay true to my goals that I've set for myself this past month, which included:
Writing everything I eat in my food journal
Reviewing my goals every night before bed
Exercising four days a week
Eating out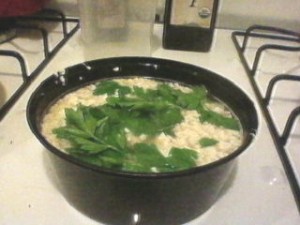 Although it may sound ambitious, I'd like to try my best to achieve all four of these goals this coming week. I'm getting my car fixed this week, so I'll be able to go back to the gym and start hiking again, so I'm really looking forward to that.
I was excited though, because I tried out a new recipe that I like, Rachel Ray's noodle free chicken soup. It sort of resembles egg drop soup and it's very simple to make. I just boiled some vegetable broth, added parmesan cheese, nutmeg, pepper and eggs to the boiled broth and stirred in a figure eight motion until the eggs were cooked. I topped it with parsley and it was done! Definitely delicious I must say.
As always, here's to another week of getting closer to my goals. Thanks for reading and please send me your thoughts of support and words of motivation.