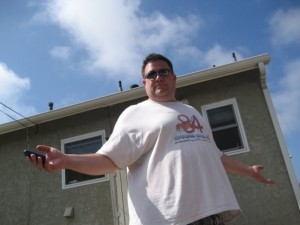 You see this guy?
That was me a year and a half ago. 375 pounds of big squishy man. That was before I started the year-long weight loss challenge in 2011 and dropped over 100 pounds of it. The result was a slightly less squishy man, and certainly a healthier one.
Fast forward to today. I won't beat around the bush this time and save my weight gain/loss for the end of the post because there is no weight gain or loss this week. I held steady at 280 for the week. So, yeah, I'm feeling kind of fat today.
I know I shouldn't, especially when I look at the giant tub of goo in the picture. I have come so far and accomplished so much. It's difficult for me to remember that sometimes, however, and I end up writing emo titles on the walls of a perfectly nice blog site. Part of it is not seeing a drop this week, of course, and part of it is that it's one of those days where I can feel every extra pound on my body. I feel it moving when I move, working against my beaten knees, and I can almost feel it in the eyes of strangers when they look at me. It's bizarre, really, because I'm not depressed or even upset about it. When you've been as sizable as I am for as long as I have you sort of make your peace with days like today. You do not, however, make your peace with being that sizable. The second you do is the second you give up on so much more.
Another piece of the puzzle is that I remember hitting my plateau before. I remember in 2011 when it took me roughly six weeks to break through the 290 mark. I fluctuated between 295 and 290 for that entire time, trying everything I could. I exercised right, I ate right, but my body simply said, "Nay." I needed a shake up, something to push the envelope. I remember adjusting my diet and trying some new exercises and, sure enough, the next week I broke through and it was on down the slide for a bit longer.
Here I am, two weeks into this new challenge and I already feel like I need to shake it up. I can't lie, though, and pretend I had the most productive week from a diet standpoint. I was pretty good at the end of last week, keeping the exercising and proper eating going. I had a few drinks on Friday and Saturday nights, but nothing too crazy. Sunday was a pool day and that, my friends, was where the trouble started.
I joined a couple of friends of mine (we'll call them "Keith" and "Joey" to protect their anonymity) at their pool. We had a few beers, and maybe even a few more. We snacked on tortilla chips and green salsa. We also swam some, so it's not like there was NO exercise involved. I love swimming, by the way. I love being weightless… having my knees cooperate with my movement and being able to bend, lift, and stretch in ways I just cannot do out f the water. I like to think of my pool body as my future self. You see, Future Self can do all of that fancy acrobatic flexibility stuff on dry land. Current Self needs to keep his big butt in the water to pull it off.
In any case, Sunday degraded slightly from there. Another friend joined us and we decided to spend the afternoon out of the hot sun and in a much darker, cooler place. Yes, this place served us more drinks so that was a shot to the diet, for sure. I ended up curtailing the drinking not long after we got there so I was able to return home that night. I hadn't eaten much that day aside from the chips so I was starving. "Come on, Scott!" said Current Self. "Future Self won't mind if we eat a few tacos! You already had all that beer, dummy. Might as well finish the job!" And so I did, eating three chicken soft tacos from the always deliciously terrible Taco Bell.
Monday it was back in the saddle, having a good diet and exercise day. Tuesday was a bit worse, as I was forced to skip my workout due to a small fire I had to put out at work. Not an actual fire, mind you, but more of a "maybe we should have planned this better" sort of fire. Normally I would have still gone to the gym but I had tickets to see a certain Garth Brooks perform downtown: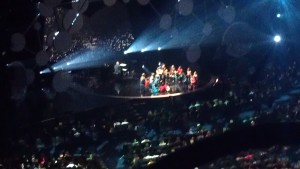 We had VIP tickets and ended up with a luxury box to ourselves. We also had a few beers, as we took a town car to the event and no one had to drive home. In any case, it was another day of not-so-good progress.
Then, of course, it was time to weigh myself and you all know how that went. I know full well I feel fat today because I spent 66% of the last three days acting like a slob. It's possible I might have even made strides that won't reveal themselves until I face the scales next week because I was still bloated when I woke up.
Yes, I felt fat today. That's a good thing, though, because it makes me want to try even harder this week.