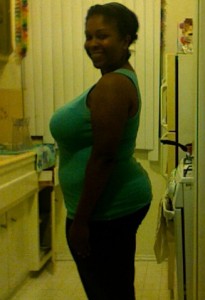 My name is Summer, and like most people who have struggled with weight loss, I have a love/hate relationship with my health and losing weight. I love the way I feel when I'm living a healthy lifestyle and nourishing my body with the nutrients and exercise that it needs, but I hate the work it takes to maintain it. I can say with all honesty that this is the hardest thing I've ever done. Putting on weight is so easy, but trying to lose it is anything but.
I've been on this weight loss roller coaster since junior high school. That's when I first started to notice that my body wasn't the same as the rest of my peers, and since then, I've succeeded and failed, and succeeded and failed again at losing weight and keeping it off.
I didn't really start to put on a significant amount of weight until my junior year of high school when I started working at a movie theater. Unlimited amounts of popcorn, soda and diner food were at my disposal for nearly four years. That's when I believe my addiction to junk food flourished and my weight began to slowly creep up. When I got to college, I was able to lose some of the weight by going on the South Beach Diet. That was my last real success at losing weight, and I got down to the low 200's. Since then it's been an uphill struggle. Working three jobs at one point and going to school full-time didn't allow for any type of healthy lifestyle. I ate what I could, when I could, and exercise was few and far between.
Last year was the straw that broke the camels back when my weight peaked at 251 pounds. Just typing that number is astonishing and I still can't believe I let myself get to that point. Luckily, I was able to step on the breaks, take a look in the mirror, and reverse.
Over the past couple of year's I've been learning more about health and fitness, which has pushed me to make permanent lifestyle changes that have impacted my life tremendously thus far.  Since last July, I've lost 25 pounds and have kept it off, but unfortunately, most of that weight was lost over the summer about a year ago. I've been unable to get past that plateau, and up until now, I've lacked the same motivation and inspiration that propelled me to finally ramp up this weight loss journey a year ago.
You can only start over so many times before you get fed up with not seeing results. I've realized that I don't want to end the last year of my twenties overweight and unhappy with the number on the scale. I want to celebrate my 30th birthday in April in the best shape of my life and am looking forward to sharing my challenges and my milestones with you.
The one thing that I believe is going to help me through this is telling myself that this is a marathon, not a sprint. The quick-fix approach has never done me any favors. I'd lose a little weight, then fall back into the same habits, and gain it back again! Realizing that this isn't just a means to an end, but actually a lifetime commitment to health and a true lifestyle change is what is going to help me succeed this time around.
So, What's My Plan?
I've always been a curvy girl and I have no interest in becoming a stick figure. I'd like to maintain my curves at a healthier weight. Currently, I am 5'6 and weigh 226 pounds. My ultimate goal is to get down to 175 pounds, although that can increase or decrease depending on the way my body starts to form once the weight begins to come off.
I will be eating a low carb/healthy carb diet that consists of lots of fruits, vegetables, nuts and seeds;  mostly plant and grain proteins like quinoa; and a very minimal amount of meat products. I already do this, but with a lot more junk food in my diet that I'd like to reduce. I want to slowly decrease the bad carbohydrates such as sugar, white flour, baked goods (my weakness), and alcohol (will consume very limited amounts). I'd also like to note that 95 percent of my food will be organic, which is very important to me.
For my fitness regimen, I intend to exercise for at least 30 minutes a day, four days per week. I will be implementing at least one gym day where I will do cardio, one outdoor activity, such as hiking or a jog at the beach, and body weight exercises, such as push ups, lunges, squats, burpees, etc.
With all that said, I intend to work hard to obtain my goals and strive towards getting to the healthiest version of myself possible.