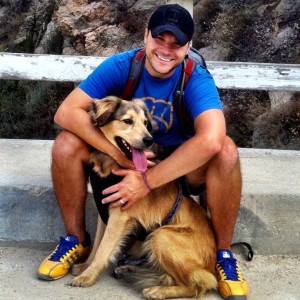 There were sharp pebbles rolling around in my shoes, blisters bubbling on both my heels, and rivers of sweat trickling down my neck. My mouth was dry and my water bottle was empty as the sun continued to sizzle my skin…  BUT I DID NOT GIVE UP.
You'd think I was writing my memoir on surviving the Serengeti or something — nope. This was actually my experience while on a three mile hike through in the mountains of California where my partner, my trooper pet canines and myself pushed beyond our limits and hiked this past weekend. And now that I'm on this mission to lose weight and get in shape the right way, I'm pushing harder than ever before.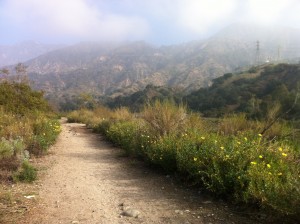 As I hinted in my last post, I'm not a gym guy. NOT. AT. ALL. I mean, I can hit a treadmill or an elliptical machine for a few miles, but being a religious gym rat just isn't in my blood. Maybe it has to do with the detest I had for gym class back in high school, or the fact that I get bored and distracted easily. When there's a endless routine on a machine with no end in sight, no change of scenery and nothing good on the gym TV, I find it easy to call it a day and hit up the sauna.
But losing ourselves in the heat of the summer sun while winding through the trails of the Eaton Canyon mountain range, that's a whole different story. To me, that's exercise — living life in motion. It's surfing for so long your arms feel like jelly, running so hard while playing tennis against your opponent that you knees swell, and jumping endlessly on a trampoline at a friend's birthday party — life and staying fit are harmonious and it's my hope to get in shape mostly this way. That's how burning calories should always be.
But shock alert: I'm actually hitting the gym, too. I never thought I'd actually have a gym schedule. Oh, the Places We Thought We'd Never Go.
But it's working, I've lost two pounds in one week!

The way I figure it: You give a little, you get a little more fun food on your plate. Don't get me wrong, I'm cutting back a lot (DO YOU KNOW HOW HARD IT IS TO SKIP A BURGER AT YOUR FAVORITE RESTAURANT WHEN EVERYONE ELSE IS ORDERING ONE?!). My lunch consists of a small turkey wrap, side of fruit and a handful of nuts to hold me over. Dinner: I've done portion control and carb-less options for most meals, and it all seems to be paying off! But I don't want to give up on the delicious things in life just to be thin — that's what full-time models apply for, not me.
I'm not going to lie, I'm not a changed man. I still "accidentally" sleep in instead of sneaking in early morning physical activity and have had some french fries here and there (OOPS). But the fact is, I'm aware of my activity AND I AM HUMAN. This is just going to take some time.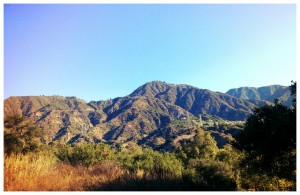 Just like the mountains I climbed this past weekend, it takes years to grow in to evolve in to something epic. Each stone that builds that mountain range is like each day I deal with trying to adapt to my new lifestyle. Sometimes there will be a few major avalanches (AKA I'm gonna eat that hamburger and maybe even have pizza for dinner on the same day), but eventually I'll rise up strong, keep sturdy and stay strong on this adventure of keeping fit.