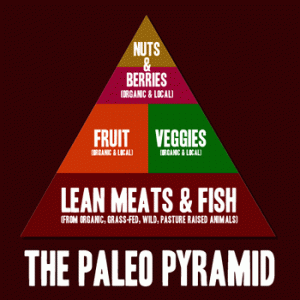 Well, as each day/week goes by, I am becoming more and more well-versed in the Paleo diet. Avoiding — no, eliminating — grains, rice, potatoes, beans, corn, legumes and processed foods of any kind really does take away a lot of choices that you were used to having when it was time to eat. Again, to remind you what the Paleo diet is, it is eating only foods a caveman prior to 10,000 years ago (prior to the advent of agriculture) would have as a choice.
Of course, this is a general stream of guidelines to keep in mind, but it is not insanely strict. But, we are so controlled by the government and FDA that it is hard to break out of the hypocrisy of what is healthy to eat. Also, did you know that three giant corporations control almost all of the food production in the country? We are given to eat hybrid foods, pumped up to grow quick and ripen fast and as a result are tasteless and lack nourishment. Beef and chicken are fed hormones, antibiotics, and grains to fatten them up and and sell them at their maximum weight. The government food formula for nutritious daily meals is completely wrong. If you eat grass fed beef, free range chickens, wild caught fish, vegetables, fruits, nuts and seeds you will be eating according to what our body is genetically bred to eat. Not the crap from Mcdonalds, KFC, Jack-in-the-Box, Wienerschnitzel — almost any fast food and almost all packaged food in the market. They are like crack houses poisoning us with food. So this has been a tough mental adjustment to get a handle on. But I am doing it and as of today, almost 15 days in, I have lost 11 pounds. And I feel better. Cravings are slowly going away, I feel full and satisfied after eating like a caveman. I also fast completely one day a week. Remember, some days a caveman wouldn't eat for a day or two when there was nothing around but then he could gorge himself once in awhile if the opportunity arose.
My daily routine is to have some protein and fruit for breakfast like a piece of fish or chicken and some berries and melon. Bacon and eggs are acceptable also but I eat them only once a week. Lunch is a salad with tomatoes, veggies, avocado, with simple vinaigrette. I could be done for the day or if I worked hard that day, I`ll have dinner. Last night I made a free range chicken breast, lightly boiled cauliflower then grated it (it looks like rice), roasted some red and yellow beets with garlic, and made a sauce by reducing white wine,  dark chicken stock (which I made) and finished with a pat of butter. I put the chicken on top of the cauliflower, sauce on top and the beets got a squeeze of fresh lime. Some Sriracha hot sauce and man, it was good. To make the stock I roasted a chicken carcass plus the neck with carrots, onions, celery, bay leaf, some tom paste, put in a pot , some cheap port wine, H2O and let it simmer for hours. Strain and then reduced by half.
I am a chef so all of this comes easy, but again, the mentally adjustment of not having the munchies take control and eating a cheeseburger, fries and a shake at In-N-Out is difficult, but waning. My goal for next week is to have lost 15 pounds and am working on sandwiches with grain-less bread and homemade Paleo condiments. Also, I will expand on the grass fed beef and wild game. I have a good source through my restaurant experience connections and can turn you on to get it since Whole foods cannot meet the demand for it. I`ll ask Jonathan (WeightLoss.org's editor) on how you can get in touch with me but in the meantime check out The Redd Zone website when it goes live in a couple of weeks for more info (That`s my personal trainer's site on which I am helping develop a Paleo diet for his clients with recipes and cooking classes) I`ll have some photos next week.
Until then my friends, stay on the course on whatever you are doing, stay strong, work out and be safe.