It is the early hours of Thursday morning — 2:47 a.m. to be exact, as I begin to write this. It is my second night of not being able to sleep. I am very tired and my eyes are half-closed and yet just when they feel when they are about to close to go to sleep they spring open because either my constant companion Penny is acting up very badly or I just can't get my thoughts & concerns to quiet down. To be honest, it is a combination of both. This is my fourth night now like this. I hate it when I fall into these cycles. They are hard to break. It is so hard to shut ones thoughts and concerns off at night. I know it is a bad habit and very hard to break and not conducive to good physical and spiritual health. So my inner light bulb goes off and I think what is the best way to deal with this than to write my blog! I don't know why I didn't think of it earlier but it must be that I let the old habit of letting everything else get in the way of what is good. So here I am writing to you all with Barbra Streisand and George  Segal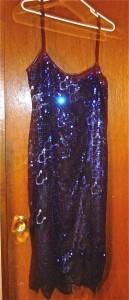 in "The Owl And The PussyCat" playing on the TV on low volume to keep me company.
Well I haven't taken any weight off this week. I am very happy about reaching my first goal of taking off 100 pounds. It took quite a while to get here. I did not celebrate by eating anything incorrect or allowing myself to have a regular meal off my regimen which is something I would do in the past because I have a concern it could very well set me off in the opposite direction. I have to share something that is kind of scary for me. It may even sound irrational. This week it has really been sinking in that I am going to do this… that for the first time in my life, I think I am really GOING  to succeed at taking my excess weight off and it is SCARING the ever-loving S**T out of me!!! Do not get me wrong. I really want to get rid of my excess weight and become healthier and all that but I haven't been below 200 pounds since I was a teenager. I haven't been a normal weight since I was a child. It's scaring me a bit. In the film and particularly this past Monday I have been wearing my hair very similar to how I wore it when I was sixteen years old… especially with the flowers in my hair. I was wearing flowers in my hair before it was fashionable back then. I always had my own stye and was a head of the fashion curb. Lately when I've been looking in the mirror getting reading for the film, for my auditions… even just plain every day, I've been seeing in my mirror vestiges of that sixteen year old girl I once was. I am not saying am acting that way. With the weight coming off and also my hair being a lot longer than I usually wear it and yes… feeling better… I see the improvements. It is wonderful. It is scary. I know I have spoken of this before. We are more comfortable with staying miserable and staying in our pain. That is is more difficult and scarier to be happy. It is the unknown. The frightening unknown. I am getting the shakes and getting teary eyed just writing this and admitting this. It would be sooo easy for me to just give up like I have done before. Just turn around like I have done before. Do you know how many times when I attained my first weight reduction goal I just high tailed it and ran in the opposite direction and gained all the weight back and then some because of my fear of the unknown? Because of my feelings of unworthiness? I am so vulnerable now. I am in an inner war. You see I know what is going on and I know I am worthy of happiness and good things. I want this not only for me but for Walter, too. He has been my rock. He deserves as well as I do for me to make this work and to feel the benefits of the rewards of taking care of myself. I have been struggling this week. Not with food so much this week. I have not been cheating per se. I admit that my eating has been off. I've missed meals. I haven't been hungry. I've eaten some potato chips… not a lot mind you but still.
It get down to that not just in words but deep down I need to reach that place in my that it is all right… that it is going to be all right, there is nothing frightening about my taking off my excess weight. I will be all right. I can handle it. I will still be me. Just because I am losing weight doesn't mean I am losing me. Another light bulb just went off in my head. I wonder if that is something I have deep down have been afraid off — losing myself. Not knowing who I am anymore. Mmmmm.
Well, to show some faith in me when Walter and I were out this past Sunday afternoon a local second hand shop here in North Hollywood that has been open for over 20 years and has been supplying the entertainment industry with wardrobe and props will be closing their doors. Walter and I decided to pop in and take a look around. They were selling everything for next to nothing. We really had not planned to purchase anything but thought it would be fun to look around. Well, Walter and I see this beautiful midnight blue sequin silk sheath cocktail dress that I could fit into after I take off an additional 50 pounds and have my panniculus surgery. The owner of the shop told us the dress had never been worn. She is a lovely woman and told us the only reason she is closing the shop is because of the rent and business is slow but she plans on reopening again in the future. For some reason she liked me. As an incentive to help keep me on my journey she said she would let me have the dress for next to nothing!!! I was like 'OMG'!!! I usually do not like to purchase clothing that does not fit me yet. I want to wear it now but that dress!!!! Walter loved it too. He wanted me to have it. He has confidence in me. He knows I am going to do it!! So I took a gamble and we bought the dress and it's hanging outside my bedroom closet door so I can look at it all the time. I love how the sun hits the sequins and all these beautiful blue prisms shimmer all over my bedroom walls. It's magical. Someday I will  cause shimmers of light to come off of me as I wear that beautiful dress as I perform on stage or walk into a room…
I mentioned that I had gone on an audition this week. Well, to fill you all in it was for "Modern Family" and I had to go to Fox Studios. I tell you I had so much fun prepping for this one and even more fun doing the audition. Of course it was fabulous being back on the Fox Studios Lot again and the casing director could not have been more fantastic. When I walked in to his office, yes dear friends, I walked with my cain of course… he said "Well HEEELLOO YOUUU!!!!!!"  Very pleased to see me. He had looked so tired and had perked up when I came into the room. He said he loved my outfit. I was a welcome burst of color. I have to mention right here that I have to give a MAJOR SHOUT OUT AND THANK YOU to my dear friend LORIE LOPRESTI THOMPSON of SMITHTOWN, LONG ISLAND NEW YORK. Lorie is responsible for that burst of color I wore. She was shopping at the Avenue back on Long Island a couple weeks back and saw the jacket and tank top plus another at the clearance rack and thought right away that I would "rock" them so she bought them for me and sent them out to me. Lorie is a true angel on earth. Even though she herself had some difficulties because of Super Storm Sandy she still thought of others. She right now is one of the leaders of an effort to help the community of Lindenhurst, Long Island New York get back on it's feet. It was wiped out. Lorie is the best!!! I love you sweetheart!!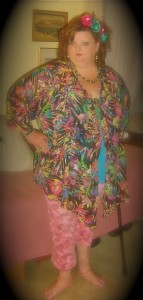 Now, it's "Bye, Bye Birdie" on the TV and Paul Lynd is singing "We're Going To Be On Ed Sullivan." That reminds me of when I was a little girl and I would watch Ed Sullivan with my parents on Sunday nights and I dreamed I would be on the "Ed Sullivan Show" one day.  When I grew up obviously there was no Ed Sullivan Show but there is the Ed Sullivan theater named after him and I did do "Late Nite with David Letterman" which is taped at the theater, so in a way I did make that dream come true!!  
Well, it is now 4:50 a.m. Time I think to try and sleep. I think I am going to be able to now. I feel some what a bit more calm. I think I have all you to thank for that…. Much love till next week… xxxooo