First if all I must ask you all for your forgiveness for not writing my blog earlier in the week like I usually do.  It has been a very hectic and busy week also in a lot of ways emotionally challenging. Also growing and coming to some realizations. Facing things. That is not always the easiest thing to do but it is the best thing to do for getting better and improve.
It is the day after Thanksgiving — Friday night around 10:37 PM at night as I begin to write this. Robert Redford's movie "The Natural" is playing on the TV. I never saw this movie before. Walter says it is a very good movie and I always wanted to see it. My cockatiel Tony is on my right shoulder watching my fingers and the computer screen as I write this. I just tried to take a picture of Tony on my shoulder with computer but Tony is just not in the mood. He keeps on hiding behind my hair… grrrr… Moody bird!!! He's such a divo sometimes… just like his mother
I admit when I am not in the mood to have my picture taken I put on a mood too…
I know…terrible… I should know better. Something for me to work on.
Yes, the things in life to work on… this in a way brings me back to what I wanted to start talk/write about. A sort of revelation that happened last weekend and grew into the beginning of the week. As you all know in my last blog I had told you all of the passing of Walter's and my dear and long time friend Todd Loweth. He was someone very special and very talented and meant very much to us… to me. Walter and I were very kindly invited by his brother Doug to attend a private small gathering in Todd's honor at Todd's girlfriend Laura's  house last Saturday night. It was a beautiful, heartfelt gathering where we all shared pictures, stories and laughs about Todd and his life. We also listened to the gorgeous music he wrote and recorded… some with his wonderful former wife Edie Jud with whom he still remained friends. It was a beautiful evening… but… yes… BUT… you see… since I had been informed of Todd's passing the weekend before I have had this feeling growing inside me… It was a mixture of sadness that my dear friend has died, happiness that he is finally not suffering and out of pain and is with God and in heaven and anger… ANGER?? What's with that?   What do I have to be angry about? It did not make any sense! The feeling all week just kept growing and growing and all I was doing was snapping and crying all week. I didn't understand myself. It seemed like I was more worked up about Todd's passing than my own mother's had been before. I mean I did cry and was upset about that but I didn't act like this. Everything finally came to a head for me Sunday morning. Ukay Bosah a lovely woman and  a close friend who brings Holy Communion to me every Sunday asked me what was the matter. I started talking with her. Ukay is a very spiritual and wise woman. I told her these feelings of anger were so confusing. She looked me in the eye and very bluntly and directly asked me "Catherine.. .what are you angry at God about?" I looked at her in total surprise then suddenly I started shaking and my eyes welled with tears and I was very sad and angry at the same time. I blurted out in a rush "I am angry at God because He didn't let Todd get better and He took Him like He is letting me get better… It.s not right… It's not fair!!!!" Then I began bawling my eyes out… These feelings of feeling so guilty and bad that I am surviving from my illness and he didn't overwhelmed me even though it sounds very irrational. You see… Todd was like me… he had such a passion… such a love of life… he fought so hard for it. When we talked every so often we would "talk each other up" support each other in our health challenges. He was such an inspiration to me. He still is. We both felt our positive attitudes would see us through. It's seeing me through. "WHY NOT HIM???"  'WHY TAKE HIM"  "WHY NOT TAKE ME TOO?"  After I calmed down Ukay very gently said "Catherine, God has not called you home yet because you haven't done everything you are supposed to do yet. When it is your time He will call you. Your friend had completed his tasks."  We spoke some more and after she left I thought more about this and other things too and it started to make make some sense to me. I mean who REALLY knows when or why it is time for us to "return home." All I know is that some day I will die and hopefully I will go to heaven. I believe there is a heaven. My belief is there is one. I believe in God. I know there are people who do not. Everyone has their own spirituality. My beliefs get me through. I would be lost without mine. That is just me. Let me make this clear I am not preaching here. I am just saying having something you believe in really helps. Having something bigger than yourself that you believe in is the most wonderful thing.
I digress. Dealing with life's vicissitudes can distract one's own desires and path and mine right now is my career, getting physically, mentally and spiritually healthy and ridding myself of excess weight. So much can and does get in the way of this sometimes. Take THANKSGIVING!!!! Now I must say this, we did make a 98% healthy and very delicious dinner. The only diversion from it was the Pillsbury Grands Biscuits that Walter and James loves, and yes, yours truly loves them too, but I… umm… planned not to take one, the mashed potatoes the guys liked and I was not going to eat and the pumpkin pie I was going to allow myself but not eat the pie crust because that was gluten. Our one guest… our dear, wonderful, longtime friend Craig Calman brought to the dinner some salad, cranberries, pistachio nuts, gravy I did not plan to touch, creamed spinach that I would just allow myself a little bit since it was creamed and then, I see it come out of the bag.. .PECAN PIE AND VANILLA ICE CREAM!!!! Oh nooooo!!! Now, that was WONDERFUL that he brought that as the ice cream is a favorite of all the guys and Craig himself loves Pecan Pie. Also just because I am following a regimen does not mean everyone else must be denied. True, we did not make stuffing because Walter and James are not stuffing eaters and stuffing is gluten so we did not make it. I told myself  "Cathie, you are NOT going to eat that pie." Well, it's confession time folk, .in the past 48 hours I have had 2 1/3 slices with Reddi whip of Pecan Pie after eating Thanksgiving dinner… I also ate a Pillsbury grand roll during dinner. Today, Friday I ate some Vanilla ice cream and pumpkin pie with Reddi whip. They say confession is good for the soul… in this case it is good for me so I can stay on course. I am going to forgive myself. I am not giving myself the excuse because it is a holiday. It just happened Period. I hope to do better at Christmas. This is MY LIFE. The best Christmas presents I can give myself is nourishing my body the foods that are good for it and not giving it what is poison for it. That is how I must view a lot of Foods now. Poison. That may sound drastic but sometimes drastic measures have to be taken. It was also just my birthday on Wednesday. I spent it at home. It was a lovely day. Very relaxing. I admit I was very tired from the previous day's filming. I actually had wanted to write my blog on my birthday but I kept on getting beautifully and wonderfully distracted from all the many birthday messages on Facebook and e mails and texts I was receiving. Also my darling, sweet, spirit daughter Misty Dawn Krater came over to  spend the afternoon with me and she gave me a few wonderful birthday presents!!  She and I now have matching glittering headbands and rings. She also gave me a very pretty crystal bracelet. Walter gave me a very beautiful antique like onyx, mother of pearl and silver bracelet and James a white orchid plant. Walter made for my birthday dinner a gluten free meat balls and spaghetti and for dessert he bought birthday cake with a lot of roses on it, just how I like it, I know everyone… the icing… and believe me after I ate the cake I felt it…. physically which makes me think that I am going to also now rethink the birthday cake thing from now on too as much as I love my birthday cakes.. .All in all my birthday was very, very nice.
The coming weekend and week looks to be busy. Sunday is the Hollywood Christmas Parade and James and I are thinking of going. Tuesday I meet my plastic surgeon for the first time!!! You KNOW I will tell you all about that!! Wednesday I am supposed to do more filming. Also I am SUPPOSED to FINALLY get my broken tooth issues dealt with… I don't want to start getting into that now else I'll be writing another thousand words at least and you all have better things to do than just reading my blog!!!!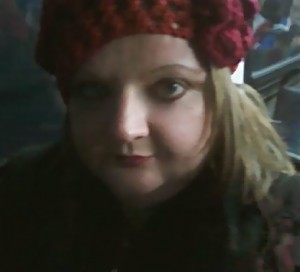 One more thing… a couple of weeks ago a journalist by the name of Elizabeth Gales interviewed me… here is the interview.
AND another thing… in the spirit of Thanksgiving and The Christmas season… Here is a little compilation of childhood memories of mine on Youtube.
Enjoy!!!
Much, much love everyone!! Till next time!!!   xxxooo