I need to address this right off the top… owning up and taking personal responsibility. In my last blog, week 17, I told you about my Thanksgiving and how my dearest, darling, most wonderful  and one of my oldest friends Craig Calman, who by the way has shared MANY a Thanksgiving and many other Holidays with us dating back to our New York City days, brought pecan pie and vanilla ice cream plus other more healthy things to our dinner. That was very generous of him. He likes pecan pie. He as well and Walter and James like vanilla ice cream. Just because I should not eat them and they are not part of my food regimen does not mean they should be denied also. I MESSED UP. NOT CRAIG. Craig was and is free to bring ANYTHING he wants to my house for a Holiday feast to share with others. I need to have control. I need to be responsible for myself. It is up to ME to not touch the foods at a holiday feast that are not good for me NO ONE ELSE. True I do ask Walter's assistance in this and that is all right… we are married… but even still, bottom line it is up to ME.
I bring this up because I do not want anyone thinking that Craig should not have brought anything to tempt me or blaming him for my mishap. He is TOTALLY blameless. When I read his comment I felt so bad that he took it upon himself that he blamed himself for something that is MY FAULT not his. It really got me thinking. How much do we take personal responsibility for our own actions? Particularly when it comes to our eating? Our exercising? The way we live our lives?… and when we do something how does it affect someone else's life? What just happened at Thanksgiving is a very clear example to me of how my weight and my eating habits have been affecting those around me and it has given me a wake up call. I just read Craig's comment last night after I arrived home and my brain has been going full steam with thoughts. The perfect example of  how the circle of cause and effect surrounds us. As I write this and this is a hard realization for me, even though Walter is my helpmate in this journey and I rely so much on him I really need to "buck up" more and take more on myself. I rely on him so heavily… Gee… look at that word I just used… heavy… just like I am physically… OH WOW… I have to confess everyone right now I am feeling a bit uncomfortable right now….BREATHE CATHIE….10 9 8 7 6 5 4 3 2 1…..
OKAY… Oh these self realization moments are a doozy. I have to find a balance. Walter willingly and lovingly is so much a part of my journey and I admit I would be lost without him. A lot of it is because I am disabled. Also, I am admitting it because of my fears. My fears that I don't have the strength to do this on my own. I see and feel my cracks in my determination and focus everyday. He helps me plug up and seal those cracks… BUT… at what price to himself? Walter has a tendency to go overboard and forget about himself. That is the way he loves. That is the way I am too. I think that is why we are so perfect together and we found each other all those years ago… well… he found me first… but that is for another blog… maybe for Christmas I will tell you all our story for all of you who do not know how we met… I digress… I think I need to be a bit forceful now and the focus and attention I am giving myself I need to put more of that on my man too and take better care of him. Don't get me wrong. I still need him as much as ever but I am going to do better in helping him take better care of me and take better care of himself and take better care of ourselves.
On Tuesday Walter and I went to Beverly Hills to meet my plastic surgeon, Amir Tarhernia MD. I know that sounds so cliche and very Hollywood but as you all know since you have been following my blogs it is serious and not about anything frivolous. For those of you who do not, this is about having my massive panniculus removed. A panniculus is the hanging low stomach that forms on morbidly obese people. Mine has become very loose, floppy and big because of my 101 pound weight loss and is very much interfering with my quality of life and health issues so instead of waiting till I have taken off an additional 100 – 150 pounds to have it removed I am going to have it removed now and then have the rest done when I have taken off the rest of my weight. With the removal of my massive panniculus I should now be able to exercise and walk better. I should have more strength. I should take off weight better. Of course I must still continue with my regimen… even be more vigilant. Dr. Tarhernia explained everything to me. He said it is a major operation that should not be taken lightly. It is very involved, takes 5 to 6 hours and with my health challenges could be on the very difficult side. It could be dangerous. There are risks. I am fully aware of this but I know every precaution is going to be taken. I do not go into this lightly. I trust totally my surgeon Samuel Karshani MD who will be doing the surgery with Dr Tarhernia. He has not let me down yet. They will be doing the surgery in an excellent hospital… Cedars-Sinai. I will be in good hands.
Am I scared? OH YESS!!!… and you know what word I am thinking but I can't use words like that on this site!! I am shaking in my shoes scared but I am NOT turning away from this. I am doing it!! I can not go on like this anymore. I want OUT of that DAMN…YES I SAID IT…wheelchair!!!!!! I want to walk WITHOUT a walker!!!! I want to go up and down stairs NORMALLY instead of sideways and one foot at a time. I want to DANCE again!!! I want to be INDEPENDENT and not have to rely on ANYONE to get around!! I want to LIVE again!! I know one of the risks of this surgery is I could die but  you know what… I have FAITH… LIFE is not done with me yet… GOD is not done with me yet. He would not have brought me this far and introduced me to the wonderful team of doctors that I have that have been saving my life if He planned to end my life. He would have ended it back in 2007.
Oh My.. .I am tired after writng this. Whew!! I feel like I need to take a nap or have a cup of coffee. Better yet I think I will finally take a shower and see if I can get Walter to take me outside for a walk even if it is a bit overcast outside. It's good for me to get out everyday.
So on that note my dear friends… Have a wonderful week… be well… many blessings!! Till next week!!
Much, Much Love….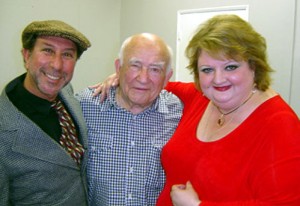 By the way… this is a wonderful picture of Craig Calman and myself with the great Ed Asner when we did a fully staged reading of Craig's comedy " Skidoo Ruins"  in Hollywood at First Stage LA on  27 June 2007. It was a FABULOUS evening!!! Craig is a not only a Talented actor but a very gifted writer!!! I was so proud to be part of this reading. Craig honored me by writing the beautiful part of the lovable "Ruby" with me always in mind to play her.