I know everyone I am late again… they will write on my epitaph… The Late, Great Catherine Anne Hayes!!! I truly apologize  for taking so long. It has been a hectic week with shooting the film, going for diagnostic tests, going to the dentist, going to the doctor for medical clearances… to make matters worse I also have been dealing with a sudden 15 pound water weight gain over 4 days that had to be dealt with. Ugh. Not fun. God Bless Mobile Physicians of Beverly Hills that I have been with for about a year and a half and it is because of them I have found my wonderful team of doctors. I called them and the wonderful Alex Foxman MD,  the head of Mobile Physicians who right away ordered some medication and for a phlebotomist to come to my apartment to take blood and for my Physician Assistant Veronica Ratevosian to come over to examine me. Mobile Physicians is fantastic. Imagine, in this day and age doctors who do home visits. They even do X-rays, Ultra sounds and other tests. They also work with your primary/internists.  They are great particularly when you are too sick to go to your doctor's office but just not sick enough for the emergency room or do not want to go to the emergency room. As for the 15 pound weight gain it was not what I was fearing thank God. The medication is helping and I am losing the water. I only have to take it for a few days… but I am fighting a cold now or I hope it is just a cold. I am doing the usual to treat it so I am in shape for next week's filming Wednesday which will be the last of it for now till after my surgery… yes I will be doing another scene after my surgery. I also have more dental work next week plus I have another diagnostic test I have to do. Dr. Polisky who has to give me medical clearance wants me to get a stress test to make sure my heart is in good shape just to be on the safe side. He is sure it is but it is always good to be on the safe side.
Speaking of dental… good news!! My broken tooth did NOT have to be pulled!! YIPPIE!! The dentist, Dr. Hagas of Western Dental is a GENIUS!! He did a root canal and normally that is not the most pleasant of experiences and I did not feel a thing!! He was so gentle!!… and not bad to look at too!!
Filming last Tuesday was fantastic! As usual I can not tell you all what we were doing but I can tell you it was extremely intense. You all will be very proud of me. I held my own with Adam and the other wonderful actor whom I can not at this time mention by name. I feel so lucky and privileged to be working with these amazingly talented men.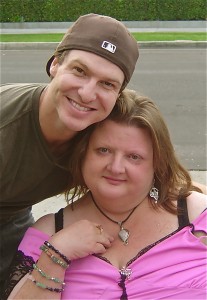 Here I am in this picture with my director John Kline at the end of the day's shooting. John also wrote the script and is the driving force behind all this along with his producing partner Scotty Wheels. Both of them are great guys. I am so grateful to them for bringing me into this project. They are my sweetie pies!!
Well, my dear friends this is going to be a short one. Like I mentioned I am not feeling the greatest and am on the tired side.  It is midnight now and I am going to sleep!!
Much, Much Love… Till next time… xxxooo