I suppose it is a good thing since I can not sleep that filming is cancelled tomorrow… or should I really say later today since it is 2:59 AM as I write this. I admit to having mixed emotions about it. I am sad naturally as I always look forward to doing my work but more importantly I am a bit sad that I do not get a chance to see everyone one more time before we stop filming for the Christmas season and everyone goes off in different directions and I do my surgery. Yes, production resumes again in January but I will not be shooting again with the film probably till sometime in February towards the end of the shooting schedule and hopefully what would be towards the end of my  heavy recovery period from my surgery. I would have liked to have said a proper good bye and wished a Merry Christmas but that's the way it happens sometimes. Things change in a moment. You move on. That's the way in the entertainment field. It's part of the territory. On  a good note though I can tell you now the name of the movie – "Once Upon A Superhero" and we have a Facebook page, so please everyone look it up and "LIKE" it so you will get updates and pictures and get to know everything that goes on with the film along with yours truly!!!  
Right now there is not much on the site but I guarantee over the weeks things will be added and you will enjoy it.
I am doing something a bit radical this week for this website. I am not weighing myself. As a matter of fact, I may not weigh myself for a couple of weeks. You see, I have been getting of late way too obsessed with numbers and it has made me very tense. Yes I know weighing myself is important considering I have to watch out for water weight gain and also to keep on top of myself to be vigilant BUT I may be bordering on the obsessive. THAT is not healthy. I need to examine what is behind this behavior of mine. I know I am worried and concerned about the surgery…who wouldn't be? Also there are things going on in my life that I have not mentioned here because they are private  that are worrying me and also Walter. We have been looking for a new apartment for a few months now and that has not been going well. Because of me and also I admit because of financial restrictions we can't just take any apartment. I feel guilty because of my special needs which make the search more difficult. I see the strain taking it's toll on Walter. It has been getting worse and worse to the extent that this weekend we had a terrible fight on Saturday. We have not fought like that since I can remember. It was so bad that Sunday I had James take me out of the apartment and "run away" for the day. Walter and I both needed space and distance. I craved the peace and healing of the ocean so we went to Santa Monica. That was the smartest thing I did. God Bless James. He is the BEST of friends… like a brother. He didn't take sides which I did not want or expect him to do but  he got me out of the apartment. We had a wonderful day. We called up our dear friend Danae Torn who lives out there to meet us and first we had coffee at Coffee Bean and Tea Leaf then we walked down to the Santa Monica Promenade. It was just about sunset then. It was also the second night of Hanukkah and at the foot of Santa Monica Blvd. on the Promenade there is a big, beautiful Menorah that get's lit during each of the 8 days of the Festival of Lights. We were there just in time to see the ceremony to watch the second lamp be lit!! It was so joyous to see this!!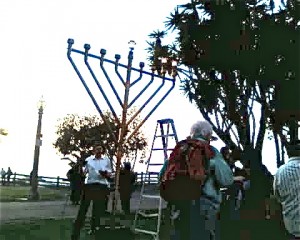 Afterwards we watched the rest of the sunset. Once the sun disappeared into the horizon and the stars came out one by one we made our way back to the 3rd Street to look in shop windows and look at Christmas lights. While waiting for a traffic light to change a lovely young Mennonite woman smiled at me and wished me "Merry Christmas" and gave me a CD of "Lessons & Carols" recorded by the choir of her church. She was handing them out. She was not taking any money for them. I accepted it graciously. I am always curious and open minded to listen to different interpretations. Eventually James and I headed towards the bus. I did not want to go home. It took a lot for me to get on the bus but I knew I had to go home. I am not irresponsible that way.
Well… disappearing for the day was the smartest thing I did. It has been a lot calmer around here. We both needed that time out. Again I thank James so much for that. I also realized that maybe I should take more days that Walter and I spend apart. I think it will be good for us. James is willing to help me do that.
The next day I listened to the CD from the Mennonite Woman and OMG is it BEAUTIFUL!!!! The singing is a capella and the readings of course are right out of the bible. Very sweet. Lovely. Calming. I wish I had a whole bunch of them to hand out myself!! There is a phone number on the CD. I called and left a message and told them I loved the CD and they should contact a record company and get a recording deal!!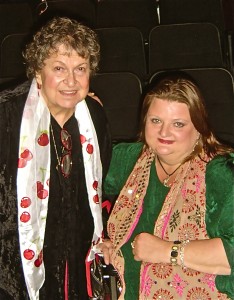 Monday night Walter and I went to our writer's group… First StageLA's Holiday Party at The Missing Piece Theatre in Burbank. We had a wonderful time! I haven't been there in a while. It was great to see old friends and meet new members. Jacque Lynn Colton… a wonderful actress I admire very much… did a fabulous monologue about a lady who moved to Las Vegas when her husband died and bravely came out of her shell and loves to dance. Jacque was luminous doing the monologue. I also saw my dear and marvelous friend…actress Helen Duffy who also is a very big supporter of mine and reads my blog every week and always comments. Helen is the best. She also very graciously consented to perform my words on more than one occasion at First Stage. She did  a  magnificent job!!!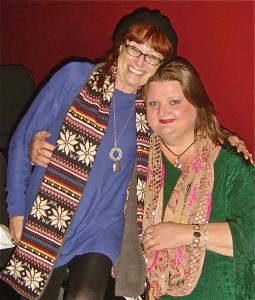 Also at the party there was a raffle and I won a couple of prizes… one of them being… are you ready?… The Abominable Snowman from "Rudolph The Red nose Reindeer"… AND… he sings and dances too!!!  
Well… It's almost 5:00 AM now and I am starting to feel a little sleepy and my eyes are blinking… dare I hope I may actually get some sleep now? I hope so!! I am not going to sleep the day away though. I have errands to do and must prepare for tomorrow. I go to the cardiologist to see him about that test Dr. Polisky wants me to have done and in the evening I have another Christmas party to go to. This one is in Beverly Hills. I'll tell you all about it next week.
Have a happy and Blessed week everyone… Much, Much Love… xxxooo