Okay… maybe I am being a bit dramatic but I am not kidding everyone. I have started writing this at approximately 12:50 a.m. this morning  and the super icy cold wind is battering my windows. The frigid air is seeping its glacial fingers around the edges of the sides of my bedroom window. I have on my favorite wooly socks that are 20+ years old that I remember picking up in Macy's Herald Square back in NYC the first year I performed there during the Christmas season doing their iconic character "Huggable Honey Bear". I performed her for three years. Lots of wonderful memories!!
I digress… I also have on a thick flannel night gown and sweat shirt. Four blankets are on my bed. I have blankets around Bella and Tony. They are snuggled together. Surprisingly they actually like the cold weather. Go figure. You would think coming from New York City I would be used to frosty temperatures but Walter made the comment earlier as we were waiting for the bus coming home from yet another pre-surgical test that I was chattering my teeth that my blood has probably thinned out. That is why I am so sensitive to the cold now. I think also my body is going through so many changes with my weight coming off and… yes… lets be honest now… I am getting older. I am not some creaky old antique mind you, more of a fine mellow wine. Sweet and tart on the tongue with a nice fire on the way down :-).
The test I had today was a stress test that my cardiologist ordered. He had me do the chemical one as opposed to running on the tread mill because of my back and legs. It went quite well. I actually fell asleep during it which was surprising since my heart was sped up. I did not feel pain or anything like I did when I had the same test back in 2008. It was a horrible experience. This time was a piece of cake. He is supposed to call me in the morning with the results. I see my plastic surgeon Friday afternoon. I originally was going to see him today but since I had to have this test done I moved the appointment to Friday. Hopefully when I see him we will start setting up when I go into the hospital and the surgery date. At this point it will be after the New Year. My dental work will be completed on the 2nd of January 2013. Tomorrow I have my third dental appointment. This time with a periodontist. I never realized repairing a broken tooth and capping it was such a complicated process.
I feel like my life is such a jigsaw puzzle right now with everything I have to do all the many pieces that have to be found and fitted together just right. I admit it is tiring. There has been just so much to do at once and everything important. Nothing can be left out. Remember last week I told you I had an industry Holiday party to go to Thursday night in Beverly Hills? Well, I had such a busy day Thursday starting out with a modeling job which I will tell you about in the next paragraph and of course my cardiologist appointment that set up today's test that by the time I arrived home I was so exhausted I said to Walter I just wanted to stay home. I was just way too tired and felt that if I went out again I would be over doing it and it would be to my detriment. I have to take care of myself. There will be other industry parties to attend. I am proud of myself. The old Cathie would have pushed herself beyond. Now I am showing sense. I left a message for my management and when I spoke with them the next day they were fine about it. They want me to take good care of myself. They are EXTREMELY supportive of me. I am very lucky to have them at my back.
Now about the modeling job. I saw on Craigslist about two weeks ago that Blake Little was looking for unusual models to pose for him for an artistic project he was working on. There will be a gallery exhibition of the photos and of course the models would be paid. I submitted myself. I figured what did I have to lose. Well he e mailed me a few days later asking me my availability. A few days after that he called me up and we set up the session for last Thursday 12/13/ 2013. OMG!!! It was AMAZING & EXCITING!!! I wish I could tell you all what the session was all about and show you a picture but I signed a NDA (Non Disclosure Agreement ) so mum's the word everyone. Believe me I am bursting to tell you all!! You will be very proud of me!! I proved to myself again I have not lost my touch and I can still do the work!!!
As soon as Blake gives me a copy from the session and permission to use the picture I will post it here for you all to see!!!
As I told you all last week I am taking a break from going on the scale. I am still doing so this week. I will go back on probably sometime next week. I am being as careful as ever. Watching what I am doing. I am not overly concerned even though it is the Christmas season. What happened at Thanksgiving is still very fresh in my mind and I do not plan for that to happen again. Yes I do plan to make the traditional Christmas pierogies even though they are not non gluten. I am making them more for Walter, James and what ever friends we happen to see. I do not plan on eating any. If I do it will only be a couple and I mean a couple. I have an idea formulating in my head of making a dish that tastes like pierogi if not being a pierogi.  I would make the mushroom stuffing for the mushroom pierogi but instead of making pierogi with it I will cook up some non gluten pasta for myself and mix it with that. If I can find it I will use non gluten lasagna noodles and layer with that and sort of make a mushroom and non-gluten casserole with the ingredients. I can't really do that with my potato pierogi stuffing. That is about all the peirogi I can do this year. Money is extremely tight this Christmas. More so than at any other time. We are not even putting up a tree like we usually do. Just this little 3 foot artificial tree we found in the garage. At least it is something. We will make it pretty somehow. We are not taking our Christmas decorations out. Walter feels that what with us looking for a new place to live and most of everything packed up already it would be impractical. I have to admit I am very sad about it and I have been a bit depressed about it but I am getting over it. Christmas is not about decorations, food, presents etc. It's about love and what is inside you. The people who are with you. Remembering ones who used to be around. Looking to the future… and for those who believe… Our Lord's Birth.
Here in my bedroom I have a little 16 inch tall potted real tree I picked up in the local super market and strung with lights and after I am done writing this I am going to decorate with my costume jewelry that I have worn over the years in various movies and plays. It should look very sparkly and pretty!!!!
Here it is again almost 5:00AM in the morning!! I think I better bring this to a close. Before I do I want to say that I know in the past few days we all have been going through a lot of soul searching and experiencing in different ways emotionally and spiritually the horrific event that occurred last Friday. You all know what I am talking about. Whether you are a parent or not you can not be but affected very deeply by the loss of innocent life and can not help but question what could make a person do such an evil heinous thing. The  unanswered questions and thoughts can go on for months. What we must do… and this is a very hard thing in light of what happen is still have hope. Still believe there is goodness, beauty and most important love in this world. Yes I know we are in mourning and we are hurting. Yes we are very angry some have even gone so far as to say now is not the time to celebrate… to have Christmas. If anything… It is more important than at ANY time that we do. I know some of you will not agree and may even be angry with me but life goes on and what better way to HONOR those dear innocent lives than to keep the lights of Christmas burning bright, sing carols… love one another? I truly believe in my heart and soul that the children and adults who went home before their time would want it that way. During your celebrations take a moment to honor them. Light candles, do a charitable act etc. This is just my humble opinion everyone.
And on that note… may you all have a Peaceful, Beautiful, Loving Holiday… Merry and Blessed Christmas My Dearest Friends… With Much, Much Love xxxooo
P.S. As an added Christmas treat here is a true Christmas story I wrote based on when I performed at Macy's Herald Square back in New York City… Enjoy!!!
A Christmas Memory From Macy's
I am taking you back to one of the most "classic" moments of my life… a very MEMORABLE one that goes down in the history books of Macy's Department Store 34 Street NYC.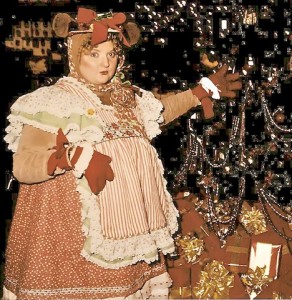 The year is 1987. It's Christmas time. The scent of roasting chestnuts from the outdoors mingling with the scents from the myriad perfumes of the first floor of the store were so strong they stayed with us… The Victorian Quartet, Macy Mouse and me… Huggable Honey Bear, as we went throughout the store, entertaining shoppers. In ruffled petticoats, short dress, pretty red shoes and brown bear costume, with rosy cheeks and a big smile I would set forth out into the store saying "Hello, I'm Huggable Honey Bear and I give Hugs for Christmas! Would you like one?" I never hugged so many people in my life!! I loved my job. Never had a bear had her picture taken so much!
We would entertain all the way up to the eighth floor where Santa Claus and his elves… lots and lots of elves… resided in a wonderful, beautiful, magical fantasy land. There was also a puppet theatre with continuing shows throughout the day.
Another thing Macy Mouse, the Victorian Quartet and I had to do was a pre show in the puppet theatre so the puppeteers could properly set up between each show. I took this very seriously. I came up with a show that would entertain not only children but also their weary parents. It was so popular that the manager of Santa-land would get calls asking when was the Bear going to be in the puppet theatre.
This particular afternoon I had Macy Mouse join me in my show. We did that sometimes. Macy Mouse was a very funny and talented man and we had a lot of fun together. We were going to play a participation game I invented called "The Christmas Game". It is a lot of fun and can cause many giggles. Even amongst adults.
Well… here's what happen that afternoon. I explained that in "The Christmas Game" we get to pretend and dress up like anything associated with Christmas and when we are done we dance silly. So I asked them "What should we pretend to be?" They shouted out "Christmas Trees!!" I start patting my body and all the kids start patting their bodies. I then asked, "What color should our trees be?" A little boy shouts out "Greeeeenn!" "All right very good… everyone… including you too parents… put your green on!!… Hey… you… mister… I don't see you putting your green on… I'm going to have to go back there and bring you up here and put your green on for you if you don't do it!!" Giggles. "That's better!!" More giggles.
"Ok everyone. Now we are beautiful green trees… what else do we need?"
A pretty little girl jumps up and says" Lights, lots and lots of colorful lights!!" "Everyone start putting your lights on". So everyone starts spinning around putting their lights on. Peals of laughter are spilling out of the theatre. A little girl is telling her daddy he is not putting enough lights on. Everyone is having a great time.
"OK…what do we need now?" A little boy raises his hand and shouts "Balls! We need Balls!" "All Right Everyone!! Put your Balls on!!!!" All of the sudden I realized what I said… and I thought OH MY GOD… I looked at the faces of the adults. Their eyes were wide open. Mouths open. Faces frozen. I looked at Macy Mouse. He was sitting on the lip of the stage. He fell over. Dead silence permeated the air for a couple of seconds. Then I heard a child cough and I turned and looked at the children and they were looking at me expectantly. Their sweet innocent faces waiting to continue with the game.
I realized they did not understand my blunder and as long as I did not act like anything was "off kilter" it should be all right… at least I hoped so. I continued on with the game. The adults saw that the children had no idea and even they started to relax and even smile at me.
We never had a chance to finish the game as it was time for the puppet show to start but I did get a rousing applause and a standing ovation.
Afterwards I thought I was going to get the boot but of course I didn't instead for the rest of the Christmas season I received many a tease about hanging Christmas… aah… decorations… oh… there I go again…
2008 copyright Catherine Anne Hayes