Who would have thought that? Quite frankly, I do not doubt my dedication, but I must admit I am just a little bit surprised and very pleased with myself that I am still here… that I have dug in my heels deep and I keep on writing. It has been the best thing I have done for myself these past five months writing this blog and sharing my all too not perfect but wonderful journey with you all. I am so blessed having you all in my life. You all are my best support system and have become so important to me and so integral a part of it. I feel now that you all are now not just observers of my journey, but participants too. You have so generously shared your support, your feelings, your own experiences, your suggestions and just plain listened to me when I needed to ramble on. I will never be able to express properly how grateful I am to you all and how much I love you all for being here for me…<3 <3 <3
I know I will continue to need your support particularly in the coming weeks in January and after. I saw my plastic surgeon,  Amir Tarhernia M.D in his office in Beverly Hills last week Friday 12/21. It was a very intense meeting. Let me say Dr. Tarhernia is very good, honest and straight forward. I do like him. He does not pull punches as we say back in NYC. He admitted to me that after our last appointment he was thinking that he was considering not doing the surgery because of my health challenges but he was thinking about what I said… why I want to have the surgery, my quality of life, etc so he decided to wait to make a decision till after seeing the results of my pre-surgical tests. Well… I have passed all my tests. Dr. Tarhernia discussed with me that he feels very confident that he can do the surgery along with Samuel Karshani M.D. but he wanted to make sure that I understand that it is a dangerous surgery with risks. There is a lot of blood loss. I am on the operating table for 5 to 6 hours. There is the possibility I could die on the table. He was not being negative. He wanted to make sure I was aware of the risks. He also understood that I am basically between "a rock and a hard place." If I do not do this surgery now my quality of life will not only continue to be very difficult, it could get worse. First of all, as you all know I am taking off weight but it is extremely hard because I am not able to exercise as I should because of my back and leg issues. My excess panniculus contributes greatly to that. If I do not get rid of it now it will continue to get worse as I very slowly take off my weight or…. God forbid… stop taking weight off because I am not able to. He understands that. We are aiming to do the surgery the second or third week of January. He wants me to have a Hematologist and a Primary Doctor who are associated with Cedars Sinai lined up to be part of the team. He wants the Primary Doctor to be the one to admit me two days before the surgery. I actually have a Primary with Cedars already through Mobile Physicians so that is taken care of. I have a call in to my Hematologist, Raul Mena M.D. He had told me he has associates at Cedars he can "hook" me up with.
After Walter and I left Dr. Tarhernia's office I have to admit my head was spinning and I was feeling a bit down. It was a beautiful late Friday afternoon/early evening before Christmas in Beverly Hills. There was this wonderful exciting energy in the air. You could feel it. People had smiling faces on. You could not help but be affected by it. It helped make me feel better. I asked Walter if we could hang around Beverly Hills a little so first we went for some coffee and then went over to Rodeo Drive to window shop. What do we find there but a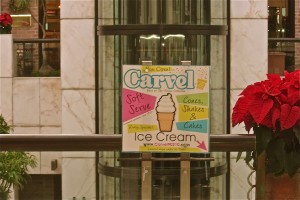 CARVEL ICE CREAM SHOPPE!!!! You can't get more NY than Carvel's!!! I haven't had any Carvel's since I left in January 2004 and BOY have I missed it!! Nothing like their soft served ice cream. I KNOW I KNOW!!!! what a thing to talk about on a weight loss blog but it just goes to show how emotional we get about our food and it's association. Yes we did go into the shoppe. Yes I did have some. A VERY small cup of chocolate soft serve. It was marvelous and you know I really tasted it!!! It wasn't a blur. That was such a pleasure. I have really learned to taste my food now. Not be frantic about it. That is so important. Keep it in control and reason. Also taste it and enjoy it. That is how we will have success.  
I have also made a decision now. To help me with my ice cream weakness and since I know there is Carvel here in California now and it is a bit of an event to get to it, I will only have ice cream when I have Carvel and no other time so it will really truly be once in a while. I can really resist it now in the supermarket.
After I had my Carvel we walked over to Rode Drive Plaza where a Christmas Trio was playing music and miraculously there were snow flurries. At the end of the cobbled street was a beautiful tree right by Tiffany's. Walter and I asked a very nice gentleman who had been taking pictures of me with his camera and didn't think I had  noticed… ahem… I ALWAYS notice when someone is taking my picture :-)… if he would take a picture of us with our camera.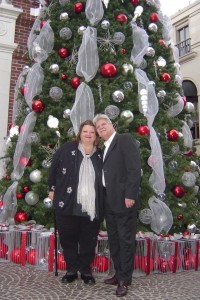 At the bottom of the stairs of the Plaza on Wilshire Blvd. I had a wonderful visit with Mr. & Mrs. Santa Claus!!
A very busy weekend comes around with getting the apartment cleaned up as much as possible for Christmas, shopping and all day Sunday pierogi making. I did not make the non gluten dish like I had decided to do. I felt I may go over board eating non gluten pasta. I felt I would have more success controlling myself without it.  I would only have the mushroom peirogi which was less carb and caloric than the potato/cheese one. Also knowing that I am eating that it will help me stay away from eating a lot of cookies and only stick to, the couple I am allowing myself.   For the most part I have been successful. I have stuck to the mushroom ones except for 2 potato ones and still have not gorged myself on the mushroom ones.  I did allow myself a little "splurge" yesterday of mushroom peirogi. I did eat a bit more chocolate that I should have yesterday Wednesday so no more chocolate for a while. I did have 2 pieces of pumpkin pie and apple pie. Mind you I am telling you all about my Christmas food consumption over Christmas Eve, Christmas Day and Boxing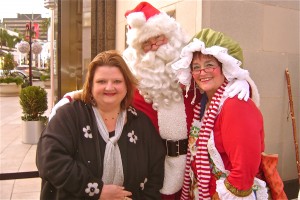 Day (12/26), so while it was not the greatest,  all things considered it was not too bad. Walter and I made sure I got my vegetables in and my salads too. I am proud of myself. I did not eat anywhere near what I would have consumed in the past. Some things I could have done better yes like not over due the chocolate and not do the little pierogi splurge,  but you know, I am not beating myself up over it. By next Christmas it will be better.
Christmas was wonderful!!  I spent it with my two favorite men… Walter and James. First James and I went out so he could get a hair cut. I ended up getting one too when I saw the wonderful job that the stylist Pattie was doing on another customer and she offered to cut my hair.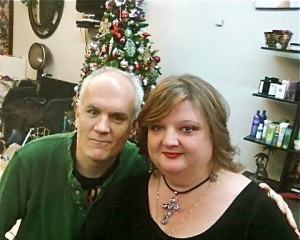 Christmas Eve Night we went to St. Charles Borromeo here in North Hollywood for Midnight Mass that really began at 10:00PM. The choir began a GORGEOUS carol pre-service at 9:30PM to get everyone in the mood. The church was packed. It was a beautiful Mass. So heartfelt… even with all the frankincense that burned our eyes and irritated our throats!!! We left the church to the sounds of pealing bells and a star filled sky…:-) When we came home. We had our traditional champagne. Walter and I have always had champagne after Midnight Mass since we have been together 34 years. We also opened one present each. We really didn't have money to do presents so we had to be creative. Walter and I gave James a baseball cap with a propeller on top… he loved IT!!! He was dancing all over wearing it!! James and I gave Walter a goody bag with things we found in the bargain store that included things he likes like gummy bears plus a head light that he can wear on his head, underpants… you always get underwear at Christmas right?… a brown belt and a couple of other fun things. He liked it a lot.   Walter really surprised me. For weeks I had been staring at a velvet gown with a gold sparkly train in a vintage shop here in North Hollywood. I would imagine what it would be like to have that gown on after I take my weight off. Last week after my stress test, even though I knew I could never afford the gown my curiosity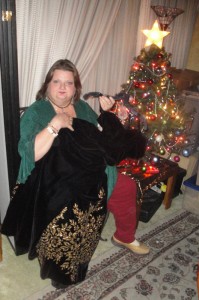 got the better of me, I asked Walter to take me into the shop to find out how much the gown is and to find out if they know the history of the gown. Well,  we found out that surprisingly the gown was less than $60.00 and she did not know it's history. I still could not afford the gown but maybe after the New Year if no one has bought it yet maybe I will put money down on it and pay it off. It may be great to have around for incentive like my blue sparkly dress. Well…guess what? Walter went and somehow managed to get the gown for me for Christmas!!!
Christmas Day started with my next door neighbor's dog Pippo waking me up to show me his Christmas hat and to give me a present of his Mama's  Italian Limoncella  that she made. We had sent over a plate of peirogi for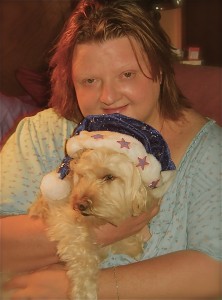 her and her husband the Sunday before!! Craig Calman came over later in the evening. Boxing Day Carol MacCarther came over and Danae Torn came over to spend a few days with us!! I am very happy!!!
It is almost 3:00AM now and I am going to bring this… my last blog for this year to a close.   Again…I thank you all for being by my side these past five months.    May you all have a Beautiful, Blessed, Prosperous, Healthy, Peaceful   New Year….Much, Much Love….On Ward and Up Ward…To The Stars!!!   xxxooo