As I begin writing this it is 4:50 a.m. I have not gotten any sleep in approximately three days now. Any proper sleep that is. I've had little glimmers of sleep here and there. I don't quite manage to totally slip into oblivion… oh no… that is not possible. My old companion Penny is making sure of that big time no matter what I do. As a matter of fact she is really going into overdrive now. She is RELENTLESS now.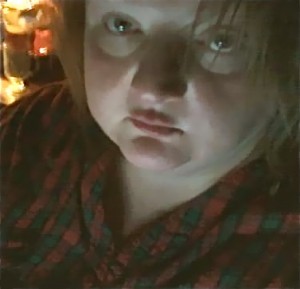 I am on top of my blood sugar which I admit is affected by this. It is not bad but it is kind if going up and down because of the lack of sleep. The pain though is excruciating. It is in my lower back out to my hips down my legs setting into my feet where it is the WORST!!!  ,I know this excessively cold weather we have been experiencing here in Southern California has not been helping. I know my worrying also has not been helping. I thought maybe if I just started to write my blog it might help to ease some of the pain if not take it away. I find trying to keep myself busy doing activities helps me that way. When I just lay there or sit there the pain is ten times worse and my mind magnifies it more so keeping busy helps.
I made some more pierogi on New Years Eve. James and Walter love meat pierogi and we had pork tenderloin roast left over from Christmas so I decided to experiment with it. I never made meat pierogi with pork before and I wanted to make it as low fat and low calorie as possible. Again I was making them more to keep me distracted and for the guys than for me to eat but I would like to at least try a couple of them so I should try and make them as safe as possible. Definitely a goal of 2013 is coming up with a non gluten flexible pasta dough for stuffing pierogies and other pastas that require stuffing. Also it will be "diet" friendly too!! I still need to take off another 150 to 160 pounds or at least that is the goal I would like and hope to achieve. I have to admit right at this moment at 5:12 a.m. and in so much pain I don't feel like I am going to achieve any goals if I do not get some sleep soon!!!
Man, what a way to start out the New Year. It really sucks!!! Believe me everyone, I am trying very hard to feel good and positive and all that, but you know, it's just not happening at THIS moment. Penny has won this round. Pain is ruling my world. I am not super woman. as much as it is expected of me to be even though I am told otherwise. Oh how I WISH I could just shake this PAIN OFF!!
Believe me, it is helping VERY MUCH that you all are allowing me to b**ch and moan to you and I am VERY grateful!! I am so GLAD I don't have to be a fake friggin' Pollyanna with you all when I feel so miserable!!!
I do have a question for you all and I would greatly appreciate your answers and how you honestly handle or would handle the situation.
What would you all do if a close friend gave you a present that was a food item that was something that is not part of your food regimen anymore. This friend now is very much aware of your journey and how committed you are to it. How would you handle it. Would you say something to them or not. I really want to know what you all think about this and how you would handle it. Thank you so much!!!
BTW… this has NOTHING to do with this pastThanksgiving.
For very obvious reasons everyone I am keeping this short. Thank you SO MUCH for listening to me!!
I hope you all had a wonderful New Years Celebration.  Happy New Years!! Much, Much Love!!