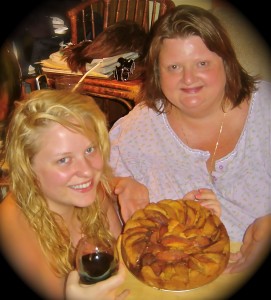 As I start to write my blog today Monday the 24th of September I have Dr.Oz on the television. I like Dr. Oz. I find him to be very genuine and informative. Today he is talking about the importance of making sure you have magnesium in your diet and eating three square meals a day. Magnesium helps with your energy levels. If you find yourself feeling sluggish and tired all time chances are you do not have enough magnesium in your diet. You can take a supplement and or you can find it in a variety of foods like bananas, spinach, kidney beans, whole wheat bread, etc. Go to Dr Oz's website and you can get the information or look it up in general on the internet. I take a magnesium supplement and it does make a difference.
I had another great week with Misty till she had to leave on Friday to go spend time with her sister. We mostly stayed around my apartment talking and sharing. Misty's birthday was on Saturday so since she was not going to be with us we decided to celebrate it on Thursday. I taught Misty how to make my Eggplant Sauce or Stew AND I baked for the first time a Non gluten, organic peach cake that is not very fattening. I am so proud of how that cake turned out. It looked like it came out of a bakery and tasted fantastic!! Oh yes,  the eggplant was perfection!! James who never eats eggplant loved it!! He is a very finicky eater. I must admit that Misty and I kind of tricked him into eating it. We did not tell him what it was till he ate some. He always refused to eat eggplant. Well…guess what?  He ate two bowls full!!
The beauty of it is that it is not fattening. You can enjoy yourself.
Friday comes along and we walked with Misty up to the Metro train station here in North Hollywood. It was kind of sad. We had such a wonderful two weeks but we know she will be back again. I love it when she stays with me.
Later on in the afternoon I was not feeling very well. I was having intense pain in my back radiating to my front and my left eye was not focusing well. I was also feeling foggy. Just in case I called my doctor, Dr. Polisky. He right away called me back. He told me I had to come over to the hospital. Ugh. I hated having to tell Walter that. I did not want to call 911 and take an ambulance as I was concerned they would not take me to the hospital my doctors are with so I insisted with Walter that I wanted to take the bus. It was rush hour so the buses were running frequently. He was not happy about that but he went along with my wishes. We did arrive in a good amount of time but we still have to wait as they were busy. To make a long story short I was admitted and kept over night so tests could be done. No heart attack, thank God. Not sure what the problem is actually but I do have a stress test scheduled the 9th of October. According to the hospital scale I lost an additional pound.
so I am 339 pounds now. I was discharged. He could have kept me for a couple of more days but I was not getting any sleep. I had a room mate who was screaming all night and never let up. Yes, I did request to be moved but there was not another room available on the floor. I came home and I have to admit I pretty much just slept the weekend away. I did wake up to watch the Emmy's.
Walter was very sweet. He went to the Farmer's Market for me and picked up my fruits and vegetables and he made sure the telephone did not wake me up.
Now here I am on Monday writing my blog. I know not a very exciting or scintillating one. Today in the mail, I received a lovely present from a friend in Turkey. He sent me a beautiful brooch with sixteen stars in it, a pink rose from his garden and a poem he wrote. What a sweet and dear thing to do.
I love sentimental things. I will treasure them.
Now it is time for me to get in the shower. One of my doctors is coming to visit with me.
I hope you all have a wonderful week!!! Many blessings!!! Please share and write back to me. I would love to hear from you!!
Here are the recipes of the foods that we made this week!!
CATHIE'S EGGPLANT SAUCE or STEW
3 medium sized eggplants peeled and chopped into little cubes
1/2 red onion (or other onion you have on hand) chopped into small pieces
3 heaping spoonfuls minced garlic or whole head of garlic minced
extra virgin olive oil
2 small cans tomato paste
2 medium cans chopped up tomatoes
2 large cans pureed tomatoes
generous cup of red wine (or red wine vinegar)
basil
oregano
rosemary
pepper
squirt of agave or spoonful of coconut palm sugar (or regular white sugar)
Directions
1. First Peel off the skins of the eggplants then chop them into small cubes. Then chop your onion into small pieces and your garlic if you are not using the jarred kind.
2. Coat the bottom of your pot with the extra virgin olive oil and heat up but do not let it get smoky. Put in your onions first to cook for a couple of minutes till they get soft then add your garlic. Stir and cook an additional couple of minutes.
3. Add the eggplant to the pot and cook it till it gets kind of mushy. You may have to add additional extra virgin olive oil to the pot. Just stir it in. Make sure you stir the eggplant as it is cooking down.
4. When the eggplant is mushy first add to the pot the tomato paste. Stir it in. Then the chopped tomatoes. Stir it in. Then the pureed tomatoes. Stir it in. Mix everything well.
5. Add in the red wine and stir.
6. Now add in your herbs and seasonings. That will be according to your tastes. I like a lot of basil and a sprinkling of oregano and rosemary. I shake the pepper on top.
7. Last… add agave or sugar and stir.
8. Now let cook for a couple of hours. I like to let it cook for a while and then taste to see if it is ready. The longer it cooks the better!!
Enjoy!!
PEACH CAKE( Gluten Free )
3/4 cup all-purpose gluten-free flour blend *
½ cup sorghum Flour ( or non gluten pancake flour or short cake flour with sorghum flour in it )
1½ teaspoons baking powder
½ teaspoon xanthan gum
¾ cup plus 3 tablespoons sugar, divided ( I use coconut palm sugar )
8 tablespoons (1 stick) unsalted butter or non-dairy buttery spread, at room temperature
1½ teaspoons finely grated orange zest
2 large eggs or egg replacer of choice
1 tablespoon fresh orange juice
4 ripe, but firm peaches halved and each half cut into 4 slices* ( I use organic peaches )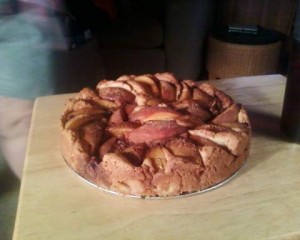 ¾ teaspoon ground cinnamon for topping
Whipped cream or whipped dairy-free topping
Second Choice: Cascadian Farms or other brand Organic sliced peaches can be used. Thaw fruit before using. Purchase 2, 10-ounce bags and pick the prettiest slices for this cake. Save the rest for another use.
Preheat the oven to 350°F. Lightly oil a 9-inch spring form pan. Combine the flour blend, sorghum flour, baking powder, and xanthan gum in a bowl; set aside.
Beat ¾ cup of the sugar and butter in a mixing bowl until fluffy. Add the dry ingredients and orange zest and beat until crumbly. Add the eggs, one at a time, beating after each addition. Add the orange juice and beat just to incorporate. Spread the batter evenly in the prepared pan.
Arrange the peach slices on top of the batter so that they touch and form concentric circles that cover the batter. Press into the batter lightly. Don't worry if the slices are not perfect. The cake will partially cover the fruit as it bakes. Combine the remaining 3 tablespoons sugar and the cinnamon and sprinkle over the batter.
Bake 55 to 60 minutes, until golden and a tester inserted into the center comes out clean. Run a knife along the side of the pan to release and remove the side of the pan. Serve slightly warm or at room temperature with whipped cream or dairy-free topping.
* If the blend you use does not contain salt and gum, add ½ teaspoon salt and ½ teaspoon additional xanthan gum to the dry ingredients.