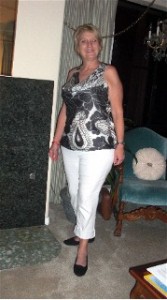 Week 1 isn't really the truth. It's Week 1 on this cool site but Week 30 on my weight-loss/body/life transformation journey. I started this journey on January 4, 2012. Yep, that's right, a New Year's Resolution junkie.  Weighing in at a whopping 215 lbs., (even for 5'7 that's a lot) I was using the 'F' word (fat) to describe myself.
From January to April I played the "oh, a little of this won't hurt" and "one pint of beer won't matter" game. You know the game. It's a game that always ends up with me yo-yoing my way through another year of failed dreams and goals. Even though I was well into playing this game I still managed to lose 12 lbs.
In March I visited a friend in Florida who was on the Ideal Protein protocol (www.idealprotein.com) and she looked amazing. Do you have those friends in your life that make you think "if he/she can do 'it' ('it' being whatever) I can do it!" Plus, amazing is amazing and I want to look amazing. [Disclaimer: I am not affiliated with the Ideal Protein company either as a member of a medical group or an employee.]
After researching the heck out of the Ideal Protein program I was ready to commit. No more excuses, no more stealing nibbles and drinks and no more fear of being physical. I was making a move!
TIP #1:  Know what you're getting yourself into. Select a program that fits YOU, your lifestyle, your social personality, and your budget. If it doesn't fit, you won't stick to it. Period.
Time to take myself seriously. In my ripe old age (I'm 56) I've developed the reputation among family and friends as a woman of my word, people can count on me through thick or thin to do what I say I'm going to do… except when it comes to my weight. My circle of folks are tired of hearing me make grandiose proclamations of weight-loss and healthy lifestyle changes. Just do it already!
In January I put pen to paper and wrote out a list of what losing weight and being healthy would mean to me. Here's my list (written January 6th ). What I will gain by losing weight:
1. Able to wear trendy clothes (and shoes) and not look (and feel) old and frumphy. (It doesn't matter that I AM old!)
2. Strength to journey on roads less traveled (wherever they are).
3. Able to get up from a sitting position without grunting and feeling stiff; walk up stairs without gasping for breath; stroll through museum or art gallery without pain in  my knees and joints.
4. Better, more relaxing sleep without sleep apnea.
5. More energy.
6. More self-confidence with men.
7. Able to enjoy organized sports again (tennis, walking, hiking, biking, etc.)
8. A renewed sense of physical and spiritual discipline.
9. Freedom to see myself as a beautiful and strong woman.
10. A realization that when I walk across a room all eyes will be on me.
Gee, I feel stronger just revisiting these 10 benefits and dreams!
TIP #2:  Knowing what you want to gain is just as important as knowing how much you want to lose. During those times when the thought of facing another helping of veggies or when you really want to skip that spin class, knowing what you want to gain from hanging in there will make the difference in winning the transformation gold (sorry can't help it, the Olympics are on).
What I didn't do in January was map out a plan of action; how was I going to achieve these benefits? What did success look like on a daily basis? January thru April, although I lost 12 lbs. I was winging it. My action plan started on May 18th with Ideal Protein.
TIP #3:  Behavioral change will go nowhere without a plan of action. Make a plan. Commit it to paper or tell an encouraging friend(s). How are you going to lose the weight you want to lose. Be specific — use a journal, a chart, photos on your frig whatever works for you… Map it out.
The Ideal Protein protocol is directed by a doctor and his staff. Tony is my cheerleader, monitor, and quickly becoming my friend. For some this protocol may seem restrictive. For me it's 'ideal' (pun intended).
My May 18th- January 4th 2013  action plan:
● May 18th weigh-in:  203 lbs; BMI  31.2 (40.6% body fat)
● January 4th  goal:  135 lbs; BMI 21-22 (> 30% body fat)
May 18th 2012 – January 4th 2013 is 33 weeks and 68 pounds to lose in order to reach my goal weight of 135 lbs. Can I do it? To accomplish this I need to lose (on average) 2 lbs. a week. Very doable, not extreme and at a healthy loss rate; But wait! How will I handle those never ending (this is L.A. so they ARE never ending) pool parties and BBQs, late night movies and drinks, outdoor summer concerts and picnics? What about our annual treks to Carlsbad, Halloween parties, Thanksgiving dinner, Christmas and New Year's gatherings? Augh!
TIP #4:  Take it one day at a time (or if you have weekly weigh-ins like I do, one week at a time). Don't focus on the total amount you need to lose or the goal date. Focus only on your immediate weekly loss. I can say from experience that doing this will make the veggies go down easier and the water intake not so daunting. 
So, what is the Ideal Protein protocol? It's nothing new to professional weight-loss yo-yo'ers. Simple: Phase I — No bad carbs, hydrolyzed protein (more on that later), some animal protein, lots of veggies and a ton of water, multivitamins, and controlled oil intake.
YES (daily):
● 3 Ideal Protein packets a day (drinks, soups, bars, soy nuts, pancakes, omelets, etc.) This runs me $83.70 a week.
● 4 cups of veggies (unlimited lettuce/spinach) 2 cups lunch/2 cups dinner.
● 5-8 oz of animal protein of choice. (I'm a pescatarian so I only eat fish and tofu for this part of the protocol).
● A pool size amount of water. Well, really only a minimum of 64oz but it feels like a pool size.
● Multi-vitamins, potassium tablets, and calcium/magnesium tablets.
● 2 tbls olive oil or grape seed oil.
NO (total Phase I):
● Potatoes, pasta, rice, beans, sugar, flour, alcohol. You know the drill. There's more on the restricted list but these are the main things.
After I reach 95% of my goal weight the NO items are introduced back into my diet on a controlled basis. This is Phase II or maintenance. I don't have much info on Phase II yet since I'm not even close to 95% of my goal weight.
This diet is not for everyone but it's perfect for me and my personal lifestyle. It does present some challenges which I will write about as they come up but for the most part I am happy with and feel great on this program. Plus I've been able to stay on it for 11 weeks successfully.
Here is where I am today: Week 1 on this blog site. Week 11 on Ideal Protein. Week 30 on my transformation journey.
My weigh-ins are on Thursday evenings at 6PM. Thursday, August 2, 2012 I weighed 182 lbs. with a BMI of 28.5. Which means I've lost 21 lbs. (in 11 weeks-averaging 1.9 lbs. — almost 2 a week) A.W.E.S.O.M.E.!
My measurements:
May 18th                                       August 2nd                         Inches lost
Arms (R)          12 ¾ "                         11 "                                      (1 ¾ ")
Chest               43 ½"                         40 "                                      (3 ½ ")
Waist                39 ½ "                       33 ½ "                                    (6 ")
Hips                  49 "                           44 ¼ "                                  (4 ¾ ")
Thighs (R)          24 "                           20 ¾ "                                  (3 ¼ ")
BMI                   31.2                           28.5
TIP # 5: Give yourself periodic rewards. For me it's every 10 lbs. I think of things that motivate ME and are within my budget. Here are some things on my reward list that I will be choosing from as my weight loss continues (notice there are no food related rewards!):
● Facial
● Massage/reflexology
● Mani-pedi
● New bathing suit
● Theater tickets
● New shoes
● An art class
● New decorative pillows for my bedroom
● Jewelry
● A tattoo
I'm sure I'll come up with more as the months continue. I haven't yet thought of what my goal weight reward will be. Maybe a trip somewhere? A new digital SLR camera? A new road bike?
Next week I'll post about my action plan as it relates to exercise. Oh, you were thinking there was no exercise on my weight-loss journey? Wrong! Exercise is key.
This week's inspirational quote: "We are what we repeatedly do. Excellence, therefore, is not an act but a habit." —Aristotle
So, what are YOU doing this week to turn good eating choices into excellent habits?